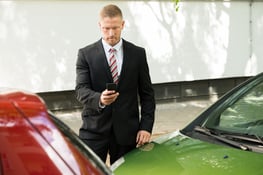 If you use vehicles for your business, you have a business auto exposure. Even if you scheduled the vehicles on your business owner's policy, you may not have all the coverage you need. When meeting with your agent to determine coverage, it's important to review how ALL vehicles are used for your business. Do you allow your employees to use their personal vehicles for business purposes, such as picking up parts or making a bank deposit? Are vehicles that aren't titled or owned by the business listed on your business auto policy? Let's address these, and other situations pertaining to the use of vehicles for business purposes.
If employees use their own vehicles to conduct company business, no coverage is provided under the employer's Business Auto or Garage policy. For example, let's say Steve uses his personal auto to deliver a package to the post office for his employer, ABC Corp. While on his way to the post office, he's involved in an "at-fault" accident that causes injuries to the other vehicle's driver and passenger. Steve's personal auto policy will respond as "primary", protecting both Steve and ABC Corp. When Steve's policy limits have been exhausted, ABC will find coverage under its business or garage policy up to the non-owned liability limit. Steve, however will not have coverage under his employer's policy unless the Employees As Insureds (CA9933) has been endorsed onto ABC's policy. The CA9933 amends the definition of "Who Is An Insured" to include any employee using his or her own auto for company business. As illustrated in this example, the coverage is excess non-owner liability coverage over any other collectible insurance. No physical damage coverage is provided under this endorsement. (Note: West Bend automatically includes this endorsement when the Business Auto Plus Pak is purchased.)
Individually-owned autos can create a coverage gap when scheduled on an unendorsed Business Auto or Garage policy. As an example, Steve has been promoted to a sales position with ABC Corp and is using his personal auto to make regular sales calls for ABC. ABC Corp has agreed to schedule Steve's auto on its Business Auto policy. Three things must occur to cover the auto properly:
First, there must be a written lease agreement in place between Steve and ABC Corp.

Second, the Employees As Lessors (CA9947) needs to be endorsed onto the policy. The CA9947 will amend the definition of "Auto" to include a scheduled auto on the form as a "Covered Auto" while leased by ABC Corp. The endorsement also changes "Who Is An Insured" to include Steve as an "Insured" for that scheduled auto. Basically, the CA9947 makes a leased vehicle an owned vehicle so now Steve and his family members can be considered permissive users and be covered under ABC's policy.

Third, another endorsement to consider for Steve, in conjunction with the CA9947, is the Loss Payable Clause (CA9944). Otherwise insurance proceeds on claims will only be paid to ABC Corp, leaving Steve's financial interests unprotected.
Taking simple precautions to close coverage gaps on an unendorsed Business Auto or Garage policy will help prevent an E&O loss. Drive Other Car Coverage (CA9910), Individual Named Insured (CA9917 or CA9918), Employees As Insureds (CA9933Z), and Employees As Lessors (CA9947) are important endorsements.
This blog post was written by Travis Hall, Commercial Lines Senior Underwriter for West Bend.