Fall is almost here, and children will be heading back to school, often in-person this year! For childcare centers, the transition from a summer program to the school year can be an adjustment. In younger rooms, children rotate into new classrooms with new teachers. Center employees are transporting older children to and from elementary schools. New children are enrolling, sometimes attending childcare for the first time. It can be a lot of change! Unfortunately, sometimes amid these transitions, children are left behind on a bus or van, left outside, or left unattended in classrooms.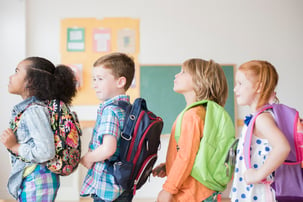 Fall Transition Tips
There are a few steps childcare centers can take for a smoother and safer transition.
Train all employees who will be driving children on the transportation policy. This should include safe driving techniques for larger vehicles and procedures to ensure no child is left behind on a vehicle. Implement a tracking procedure to ensure children are checked into their classrooms at the center after arriving from school.

If possible, have an extra teacher or two rotating through the classrooms to help children adjust to their new teachers and classrooms. This will help minimize stress for children and staff.

Ensure all teachers are doing name to face counts before and after outside time. This will help make sure no child is accidentally left outdoors on the playground.

The same procedure should be used after transitions to other areas of the center, such as a gym or library, to make sure no child is left unattended in those areas.