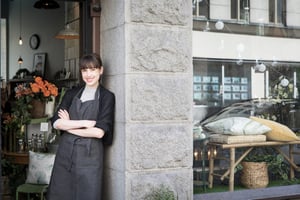 West Bend has provided businesses throughout the Midwest with the comprehensive insurance coverages and services they need to operate successfully. SMARTbusiness® is another way we continue to do that. This commercial insurance program provides coverages tailored to the unique needs of your retail business. Along with a number of essential standard coverages, SMARTbusiness offers the opportunity to add a variety of attractive optional retail insurance coverages.
Let's take a look at how West Bend's SMARTbusiness Retail policy provides you with the best coverage for your retail operation.

Essential standard coverages
SMARTbusiness offers a wide variety of coverages that are standard on your policy. These coverages protect your building, as well as your business personal property and equipment. Here are just a few of the many property coverages found on the SMARTbusiness Retail policy...

• Equipment Breakdown provides coverage when equipment breaks down suddenly and accidentally. It pays the cost to repair or replace the damaged equipment, as well as the costs you incur to speed up restoration of your retail business operations. It also provides $50,000 for spoilage of perishable goods as a result of the breakdown.
• Business Income provides coverage for the actual lost income and expenses you incur as a result of a covered physical loss to your property. Coverage is provided for up to 12 months without a dollar limitation.
• Replacement Cost provides coverage for the cost to rebuild and replace property without accounting for depreciation, if your property is damaged as the result of a covered peril.
• Peak Season provides an automatic 25% increase in coverage for your business personal property during those times you have more inventory on hand.
• Business Income from Dependent Properties provides $5,000 coverage for your lost income if a supplier cannot provide you with merchandise you ordered, or a customer cannot accept your product because the business suffered a direct physical loss to their property.
• Computer coverage provides $10,000 for electronic data and $10,000 for interruption of computer operations due to a loss of electronic data.
• Accounts Receivable provides $25,000 of coverage for the cost to replace your accounts receivable documents.
• Valuable Papers and Records provides $25,000 of coverage for the cost to replace your valuable papers and records.

Coverage for liability and associated defense costs
The SMARTbusiness policy provides a wide variety of coverages needed to protect your retail business, including ...

• Premises Liability provides coverage for the liability exposure that develops from your normal ownership, maintenance, and use of a premises, and from the conduct of your retail business' operations.
• Products Liability provides coverage for the liability you, as a merchant, may incur as the result of a defect in a product you sell.
• Personal injury provides coverage for injury, other than bodily injury, that results from false arrest, false detention, false imprisonment, malicious prosecution, wrongful eviction, wrongful entry, or the invasion of privacy of premises. It also includes injury caused by oral or written material that slanders a person, goods, products, services, or which violates the right to privacy.
• Advertising injury provides coverage for damages or injury sustained by a claimant in the course of your advertising activities. This includes libel, slander, violation of the right to privacy, misappropriation of advertising ideas, or the infringement of copyright.
• Damage to Premises Rented to You provides coverage for damages to premises you rent from others and for which you are held liable.

Coverage for losses caused by crime
Your SMARTbusiness policy also protects your retail business from losses caused by crimes such as robbery, burglary, and employee dishonesty. Here are just some of those essential crime coverages ...

• Money and Securities provides $10,000 of coverage on your premises or $5,000 off your premises against "all risks" of loss or destruction of money and securities. It also covers loss of other property and damage to your premises by burglary and robbery of your safe.
• Employee Dishonesty provides $5,000 coverage for a loss caused by the dishonest acts of your employees. This includes misappropriation or embezzlement while acting alone or in collusion with others, coverages that are normally excluded from crime policies.
• Forgery and alteration provides $5,000 coverage for the false or fraudulent making or altering of a written instrument. It also includes coverage for the illegal signing of another's name to a document such as a check.

There are several optional retail insurance coverages in addition to the many standard coverages already included on the SMARTbusiness policy that provide even greater protection. Contact your independent agent to discuss today!