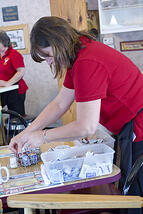 Do you know what your business income time period deductible is?
Business income insurance covers the income that would have been earned if there hadn't been an interruption in the business. For this coverage to kick in, there must be damage to your business property due to a covered cause of loss at your business premises, for instance a fire. Business income coverage typically begins after a standard waiting period, usually 72 hours.
If your business could suffer significant business earning losses immediately or within 24 hours after you have a loss, you should consider changing your time period deductible to either a no-waiting period or a 24-hour waiting period.
Please contact your local West Bend agent to learn more about this coverage.


Samantha Humer
Commercial Underwriter - Greater Chicago
View Samantha's Profile