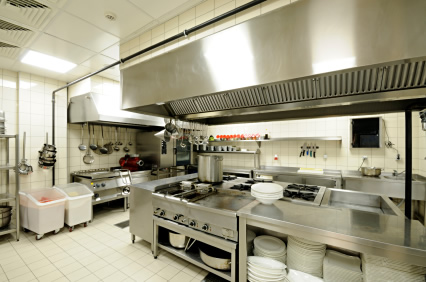 Restaurants are often a great fit for West Bend's SMARTbusiness™ program. If you own a restaurant or are an insurance agent inspecting a risk for a current customer or future prospect, it's important to be familiar with the UL300 compliance systems (UL300, Fire Testing of Fire Extinguishing Systems for Protection of Restaurant Cooking Areas). Why? Because these systems were designed to protect you!
Underwriting Laboratories updated their testing requirements in 1994 because of the significant changes in cooking materials used by restaurants, primarily moving from lard to vegetable oil. These cooking changes, however, result in fires that burn hotter and are harder to extinguish. So restaurant extinguishing equipment now must pass these UL300 tests for two reasons: 1.) to be compliant with this standard, 2.) for insurers to agree to underwrite the risk.
The updated extinguishing systems were designed to last about 12 years. That means systems installed before 2000 will no longer be considered compliant until the tanks are exchanged or replaced. Why? It's possible the extinguishing chemical can rust the tank and create a small hole, resulting in a loss of pressure. Without enough pressure, the system may not function properly and fail to extinguish a kitchen fire.
At West Bend, we've seen instances where fire protection contractors will red tag a system and not service it until it's back in compliance.
So, what should you do? If you don't know the age of your system, find out, then talk to your servicing contractors. Budget to have the tanks replaced when they reach the end of their shelf life. Estimates usually run between $1200-$2100 and up.
Most importantly, this will help protect your investment, as well as you, your employees, and customers! It will also help you avoid the costly inconvenience of a fire interrupting your business.


Julie Scharschmidt
Commercial Underwriter - Indiana
View Julie's Profile