"What could really happen if I let my kids/grandkids take a spin around the yard?" Famous last words, right?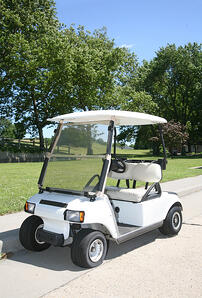 The truth is that golf carts aren't built for speed and taking corners sharply. They're lighter and tip more easily than a snowmobile or four-wheeler. In short, there's a reason why your local golf course doesn't want your children driving the cart – even when you're out of sight of the pro shop!
Put your underwriter in the same role as the golf shop pro who wonders if you allow your children drive the cart when out of our sight. Do you allow your employees to drive golf carts recklessly around your premises? While your policy probably won't exclude coverage if there's a loss, your premiums may go up. Your underwriter can't predict or price that exposure accurately.
Many businesses use golf carts within the course of daily business ... to transport people, tools, or equipment around the premises or jobsite. We'd like to see you and your mature employees continue to use them as a more efficient means to get from here to there. You want to keep your employees and family members safe! We want the same thing.


Julie Scharschmidt
Commercial Underwriter - Indiana
View Julie's Profile