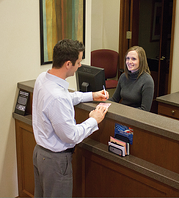 Fraud and identity theft are very real concerns for consumers today. Recovering and restoring your identity after it's been stolen is often energy- and time-consuming.
While you're probably well aware of this threat on a personal level, did you know your business has its own unique exposures to fraud? From computer fraud, to fund transfers, to cyber liability, a company's identity and assets are exposed to many different forms of attack.
Imagine that someone steals your company's bank account information. The hacker contacts the bank and instructs them to authorize a transfer of funds from your account to theirs. What would you do?
Talk to your independent insurance agent about the ways you can protect your business from these exposures.


Dave Rafferty
Commercial Underwriter - Indiana
View Dave's Profile