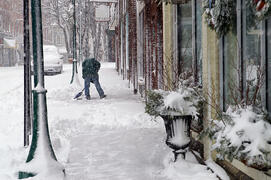 As a business owner, you're responsible for maintaining the main (usually front) customer parking and walking areas of your business, including fixing potholes and removing snow from sidewalks and parking lots. But what about the rear and side walkways and parking lots of your business? It's been my experience that the rear and side lots and walkways, the ones commonly used by your employees, can potentially be where the most serious injuries occur and, therefore, have the most impact on your workers' compensation insurance costs.
To help avoid claim exposures, you must have the proper maintenance procedures in place. It's a new year so it's a perfect time to review these procedures, make sure the proper ones are in place, and train the people who will be responsible for maintaining those areas. It's also a good time to inspect all snow removal equipment, maintain it if needed, and make sure you have enough salt and sand on hand.
If you hire a subcontractor to remove snow at your business, it's a good idea to call and review the contract expectations for the snow depth specifications, emergency call procedures, and responsibility for secondary areas like loading docks, sidewalks, and side emergency doors. In doing so, you're much more likely to avoid confusion and miscommunication when it snows. It's also more likely you'll have a safer workplace.
Remind your employees to wear proper footwear during inclement weather. Keep extra floor mats and use them when needed for wet and slippery floors. Rain, sleet, hail and wet leaves also present slip and fall hazards so review the maintenance procedures for these exposures with the assigned maintenance personnel.
West Bend's Loss Prevention Technical Bulletin Library includes "Winter Weather is Upon Us", another great resource for safety information.


Daniel Wilson
Senior Loss Prevention Rep
View Daniel's Profile