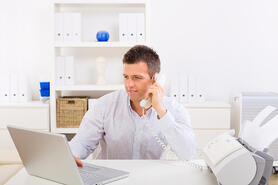 Carpal tunnel syndrome. Lower back pain. Neck soreness or tightness. These, and other injuries, can all be caused simply by working at a computer. If your employees have ever experienced work-related injuries like these, you probably appreciate the benefits of ergonomics. What many employers may not realize, however, is that proper ergonomics is relatively easy to achieve ... and can result in huge savings in workers' compensation costs and insurance premiums.
The first thing you should do is communicate with your employees and provide them with ergonomic guidelines. Explain the benefits of proper wrist and arm placement and demonstrate the equipment available to help them achieve and maintain it. Workstation physical assessments help. Many times, it only takes a simple adjustment to make a world of difference.
Many employees also work remotely from home or at temporary work locations. Employers should complete employee equipment/workstation assessments for these employees, too, to determine if they have any concerns or if they're comfortable with their office equipment.
There's a wide variety of ergonomic equipment available today, including left and right neutral mouse controls, split ergonomic keyboards, voice activated software, adjustable office chairs, standing workstations, and adjustable screens. The one-size-fits-all concept no longer applies.
I've often seen employers provide new ergonomic equipment to their employees without first assessing the situation; however, an assessment should be completed BEFORE issuing the equipment. While assessments can even be done by phone and video teleconference, I believe an on-site physical assessment that includes a meeting with the employee is the best way to measure how effective the equipment is. Other potential issues can also be addressed at this time, including:
trip hazards;
electrical hazards;
lighting;
equipment setup and location;
noise sources;
telephone equipment location; and
temperature and ventilation.
West Bend can help with your on-site and remote office assessments. Just visit our website, thesilverlining.com. Go to the Safety Resources page, then click on Technical Bulletins. These bulletins may be helpful: "Ergonomic Programs", "Slips and Falls", "Stairs", "Winter Weather", and "Safe Lifting'. You may also contact West Bend's Loss Prevention Department for more information and assessment resources.


Daniel Wilson
Senior Loss Prevention Rep
View Daniel's Profile