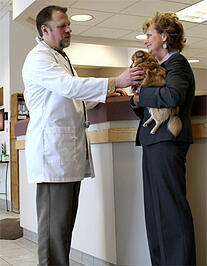 You love animals. Giving them the very best care is your passion. But what would you do if that was suddenly taken from you?
With West Bend's SMARTbusiness™ veterinarian policy, you'll have the protection you need if something should happen to your valued practice that endangers the care you provide for your patients. Our program provides comprehensive coverage for small animal veterinarians who specialize in the treatment and care of household pets.
You can also add a number of coverages to this program that provide more great coverage for your practice, for instance, Coverage for Animals with limits of $5,000 per animal and $5,000 per occurrence. Increased limits are also available. Equipment Breakdown Coverage also provides coverage for your computer equipment. The policy also includes Actual Loss Sustained Business Income for up to 12 months so if your office is damaged by a covered loss and you can't stay open, you'll receive coverage for your lost income during the period of restoration
If your practice is a licensed establishment, you have no regulatory or license investigation or action against you or any employee within the past three years, and you currently carry professional liability insurance, West Bend's SMARTbusiness insurance program could be right for you.
Talk to your independent insurance agent today about West Bend and the many ways we can help protect your business!


Sherry Williams
Commercial Underwriter - Wisconsin
View Sherry's Profile