It occurred to me recently that, as safety professionals, we often focus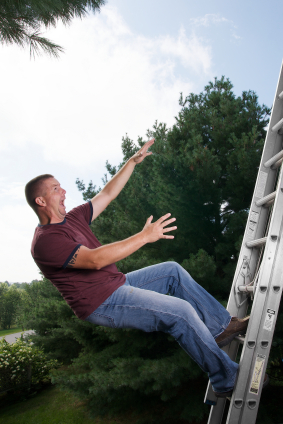 our attention only on workplace-related risks, hazards, and controls. While we certainly need to focus our attention on workplace safety, we must also remember that employees have lives outside of work. I've seen a number of employers who, with the help of safety professionals, provide their employees with information, presented both at meetings and in print, about safety at home.
It seems there's higher frequency of reported off-the-job and at-home accidents in Fall and early Spring, often because people are doing more tasks that require the use of a ladder, like cleaning gutters, repairing windows, painting, and caulking.
Leaf raking and other seasonal landscaping projects will cause muscular skeletal disorders and acute lower back and neck strain injuries. Injuries and over exertion also occur during hunting season when hunters climb trees, care for equipment, and wear extra clothing. In the Summer, slip and fall injuries can occur when boaters load boats onto and off of trailers. And at this time of year, many of us are too well aware of the hazards of slips, falls, and strains when shoveling snow from driveways and sidewalks, or when digging out or pushing stranded vehicles.
Power tools and other power machinery used for lawn maintenance projects can also cause accidents at home. Some of the more common tools are chain saws, log splitters, weed trimmers, and lawn tractors. Significant injuries are associated with all of this equipment, including foreign objects in the eye, amputations of hands and fingers, and equipment rolling over or tools dropping on ankles and feet. Many times, we see these same types of injuries on the job. Sometimes they're even worse than workplace injuries because at home, people have a tendency not to wear the correct personal protective equipment or they try to improvise with homemade equipment, tools, or products.
West Bend has a number of Loss Prevention Technical Bulletins that can help you communicate about this with your employees. Safety topics include:
To access these and other safety materials, visit our website, thesilverlining.com. Then go to the Safety Resources tab.


Daniel Wilson
Senior Loss Prevention Rep
View Daniel's Profile