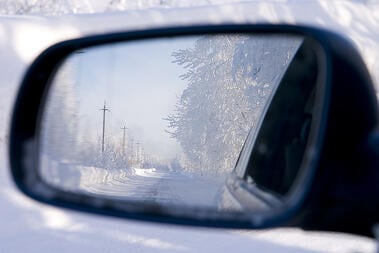 The winter driving season is here so be prepared for colder temperatures, slippery roads, and increased travel times. These factors, plus the increased demands on a vehicle, can subject travelers to potential breakdowns and possibly significant delays in getting to your destination. Here are some suggestions to help you travel safely and survive the extremes of winter weather.
Fuel Levels - Try to keep fuel level as close to full as possible. Not only does it increase the weight and traction of the vehicle, you'll have sufficient fuel to run the engine and heater if you're stranded in a storm.
Fluid Levels - The oil, coolant, brake, and transmission fluids, along with the windshield wiper solvent, should be at their proper levels or topped off. Having adequate windshield wiper solvent will help keep the windshield clear so the driver has a good view.
Wiper Blades - If your wiper blades are worn or dirty, they should be replaced. Worn wiper blades can cause streaking which reduces the driver's vision.
Tires - Tires should have adequate tread depth, as well as adequate pressure, for good traction. The manufacturer's recommended tire pressures are typically listed on the inside of the driver's door.
Battery, Belts, and Hoses - Is your battery adequately charged so it can start your car this winter? Most batteries last an average of five years; a mechanic or local auto parts store can check your battery for its electrical output. Belts and hoses should be in good shape with no bulging, cracking, or excessive pliability. If you're not sure of the condition of your vehicle's belts and hoses, have them checked by a mechanic.
Driving – Clear your windows of snow and ice before you begin driving. This includes the roof, hood, trunk, and bumpers. Snow should not block your headlights, brake lights, and operational signals. You want to see clearly AND be able to communicate with other drivers.
Winter Safety Kit – You should also consider keeping a winter car kit in your vehicle. It should include kitty litter for needed traction if you're stuck in snow. A shovel, heavy blanket, flashlight, batteries, snacks, bottled water, extra gloves and hats, jumper cables, and a snow brush/ice scraper can provided much-needed help in an emergency.
This blog was written by John Moake, a Loss Prevention Representative for West Bend.