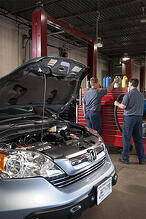 If your business is an automobile, body, and paint shop; an automobile and light truck repair or service shop; or an automobile electronics and accessory installation shop, West Bend's Auto Service Program might be right for you.
Garage Keepers Legal Liability coverage on an actual loss sustained basis is a unique coverage of this program. It provides coverage for damage to your customers' autos while they're in your care, but it doesn't specify a limit of coverage. That means West Bend will provide coverage for the value of all the customers' vehicles on your premises at any given time.
Let's say a fire breaks out and destroys all the customers' vehicles in your care, but the combined value of those vehicles exceeds your policy's total limit. It's okay! West Bend would still provide coverage for the total loss to those vehicles. It's just another great way West Bend protects your business!


Nick Listwan
Commercial Underwriter - Iowa
View Nick's Profile