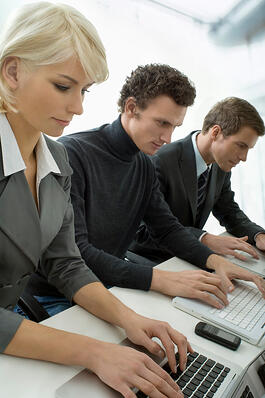 Co-working is the practice of sharing office space with other businesses, and it's on the rise in the United States. Small companies use co-working as a way to keep overhead costs down. These small businesses essentially "lease" space from existing companies that have excess room.
Co-working is especially advantageous for businesses looking to enhance their images with locations in prime, high-rent areas. Another potential cultural bi-product of this arrangement can be exposing employees to a more diverse workplace, as well as brainstorming among workers from different companies.
There are, however, downsides to this arrangement. The "host" company would most likely have control over systems and any breach concerns. For instance, the company could be expanding rapidly and need the rented space back with short notice.
As this sharing concept becomes more popular, from an underwriting standpoint, West Bend would like to see clear-cut expectations of coverages and potential loss responsibilities spelled out in written contracts between all involved parties. This would include premises liability exposures (slip/trip/fall hazards, general housekeeping, and snowplowing/sidewalk maintenance), as well as any potential cross-over of employee responsibilities for Work Comp. It will be interesting to see how the arrangement pans out for customers and insurance companies alike in the coming years.


Julie Scharschmidt
Commercial Underwriter - Indiana
View Julie's Profile