A family is left searching for answers after a 19-year-old employee drowned at a YMCA in California. The camp counselor was swimming with a group of campers in the YMCA pool last summer. A camper found him at the bottom of the pool, after he had been missing for about 10 minutes. While his family said that the counselor did have a seizure disorder, he was medically cleared to drive and work.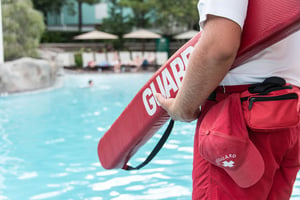 This tragedy highlights an important issue for community organizations like YMCAs and camps: keeping employees safe, especially employees with medical conditions. Among the numerous, smaller injuries to camp staff every year, West Bend receives a handful of more serious and dangerous injuries. Camp staff are often tasked with supervising children while also participating in various activities, like swimming, which can put them at risk for injury. It's critical that employers and managers at these organizations make safety a top priority.
In an aquatics environment, much of the focus is on protecting children, rightfully so. However, it's important for lifeguards to also monitor the adult counselors when large groups are swimming. All swimmers in the pool should be treated the same in terms of supervision, staff and child alike. More generally, managers should be emphasizing staff safety through regular safety meetings and discussions. Incidents and injuries that do occur should be analyzed in order to prevent future injuries. Read through our safety article on safe staff participation for more in-depth information on preventing injuries while allowing staff to participate in activities with children.