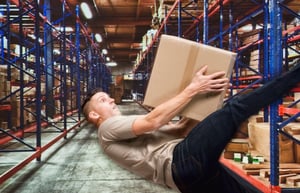 Accidents happen and people are injured, but that doesn't always mean it's someone else's fault. In this article, I'll review the key issues in slip-and-fall accident claims.
Some key liability questions in slip-and-fall cases are:
Who are the potentially liable parties?
Were those parties legally liable in causing or failing to prevent the slip and fall accident?
Did the injured party's own actions or failure to act cause or contribute to the accident?
The injured party's own carelessness
Did the injured party engage in any activity, such as talking or texting on a cell phone, that might have prevented him/her from noticing the hazard when an otherwise reasonable person would have noticed and avoided the hazard?
Did the injured party have a legitimate reason for being on the premises? Was there a legitimate reason for the injured party to be in a dangerous area? Was an alternate route available?
Were adequate warnings posted? Were other safety measures ignored or not used by the injured party?
Theories of negligence in slip-and-fall claims
In order to hold another party responsible for injuries suffered in a slip-and-fall accident, an injured party must typically prove one of the following:
A property owner or his/her agent or employee should have recognized a dangerous condition, such as a pothole or an uneven walking surface, and either removed or repaired the potential danger, or warned of the hazard (orange cone, bright paint), but did not. The key question is whether a reasonable person would have identified the condition as hazardous, and whether that person had the opportunity to remedy the situation before the accident occurred; OR
A property owner or his/her agent or employee actually caused the dangerous condition. For example, leaving an obstacle in a walking path or discharging water onto a walkway, and it was reasonably foreseeable that someone would slip and fall due to the condition.
Proving negligence and legal liability
The term "reasonable" often comes up in settlement negotiations and at other key stages of slip-and-fall cases. That's because in order to be legally liable for damages in a slip-and-fall case, a property owner or his/her agent or employee must have failed to act as a reasonably prudent person would have acted under circumstances similar to those leading up to the accident. Here are some factors we consider when determining liability:
Did the hazardous condition or obstacle exist long enough that a reasonable person could have taken action to eliminate the hazard?
Did the property owner or his/her agent or employee have a policy of routinely checking for potential hazards on the property? Did they keep a log or other record of whether the procedure was followed immediately before the accident?
Could the hazardous condition have been made less dangerous through preventive measures, such as relocating the hazard, placing adequate warning signage in the area, or blocking access to the location?
Was poor lighting or limited visibility a factor?
Was weather a factor?
Our investigations often determine it was just an accident and no one was to blame.
This blog was written by one of our Liability Claims Supervisors here at West Bend