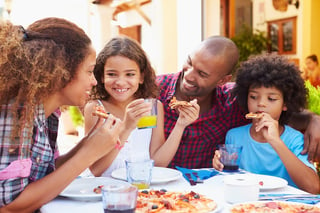 Many fond memories are made while sharing good food and good stories. Restaurants like supper clubs, family-oriented restaurants, cafes, delicatessens or sub shops, and pizza restaurants are the places where the magic happens. Let's talk about a few different types of coverages that can benefit restaurants.
If your restaurant accepts credit cards for payment, it has an exposure to a breach of personal identifying information. Data Compromise coverage can provide the restaurant with response expense coverage.
Here's an example of how this coverage works: Hackers steal the credit card numbers of customers, including names and addresses. The number of affected customers can be significant.
In the wrong hands, this information can be used to open fraudulent credit card and bank accounts, obtain loans, and make purchases. That's why it's so important to notify anyone affected by a data breach. They need to know they're at risk. This notification, however, can be complicated and cost $100 or more per record! Customers may also expect the restaurant to provide additional help.
Data Compromise Coverage I – Response Expense would provide coverage for:
legal review and counsel;
forensic IT services to identify what data is exposed and who is affected;
notification of affected individuals;
personal services for affected individuals, including a help line; and
credit monitoring and case managers for identity fraud victims subject to applicable limits.
The coverage form provides specific terms and conditions and coverage is subject to applicable limits.
Restaurants also have a large exposure to loss of mechanical equipment, like freezers, coolers, and computers. With equipment breakdown coverage, your restaurant would be protected for claims related to this type of equipment.
Let's take a look at an example: The restaurant's freezer stops working due to a power surge. The cost to repair the freezer is $25,000, and $10,000 worth of food is spoiled. With equipment breakdown coverage, the restaurant would have coverage for the contents of the freezer, as well as the cost to repair it. This coverage is subject to a deductible. Ask your agent for specific terms and conditions.
Several optional coverages, including Food Contamination, Guaranteed Replacement Cost, and Extended Replacement Cost are also available for restaurants that qualify for West Bend's Restaurant Program.
So call your independent agent to reserve your spot at West Bend's restaurant table! We can provide you with the right coverage for your restaurant. Let the memory-making begin!