We're nearing the end of Distracted Driving Awareness Month. We hope this month has been a time for all drivers to reflect on their own personal habits and a time for employers who have drivers on staff to strengthen their policies to keep employees safe and distraction free. Throughout the month of April, we've released short videos with information and personal stories from some of our associates. If you haven't already, take some time to check out these videos; we think they're very useful to all drivers.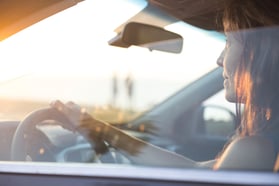 The first video discusses some general statistics and definitions of distracted driving. It also explains the different types of distractions which include cognitive, visual, and manual. Our second video goes in-depth into visual distractions and how drivers can keep themselves safe. Our last two videos feature personal stories from our associates, one heartbreaking story about the loss of a family member and another about an insect inside a vehicle that caused a crash. They highlight cognitive and manual distractions and the importance of staying focused on the road.
We hope these short videos along with the rest of the information on our West Bend Focus page will help drivers change their habits and ensure they aren't distracted while driving. We all need to remain focused on preventing distracted driving all year long, not just during the month of April. So many tragedies could be prevented if we all commit to giving driving our full attention every time we're behind the wheel.