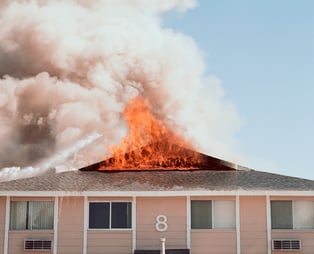 A fire broke out at a large, two-story apartment building. A passerby noticed flames on the roof, called emergency services, and notified people to evacuate the building. Thankfully, all tenants and pets were accounted for with no injuries reported.
After an extensive investigation, the cause of the fire was found to be a tenant smoking on a second-floor deck. The tenant improperly disposed of smoking material and didn't have renters insurance. The fire quickly extended throughout the second floor and into the attic. Even though multiple fire departments responded, there was significant damage to the building. All units were affected, and the building was uninhabitable.
Many peoples' lives were greatly affected; some had renters insurance, but some didn't. The owner of the building had lost income and the insurance claim totaled more than four million dollars. To help avoid future losses like these, it's imperative to have a non-smoking policy in place for apartment buildings and condominiums. It's best to require no smoking on the entire property instead of only in common areas or individual units. But, if the policy allows smoking on decks, it would be safest if the decks were protected by sprinklers.
Unfortunately, in this case the underground parking had a sprinkler system, but both floors of the living areas didn't. By the time the system was activated the major damage was already done. Once a fire gets to the attic space, it's very hard to control. It's important for buildings to have sprinkler systems on all floors and attic spaces.