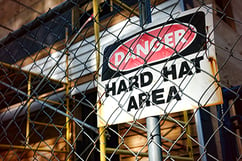 OSHA has identified these top four areas as the most common hazards on construction sites:
Falls;
Struck-bys;
Caught in between; and
Electrocutions.
Keeping safety top of mind, and knowing what to do, can help keep you and your employees safe. Here's what you should know about the top four construction hazards:
Preventing Falls:
Falls are the most common cause of fatal injuries to construction workers.
Identify major fall hazards before beginning work.
Wear and use fall protection gear.
Install and maintain perimeter protection.
Cover and secure floor openings.
Use ladders and scaffolds correctly and safely.
Prevent Struck By:
Do not position yourself between moving and fixed objects, including forklifts and other machinery.
Wear high-visibility clothing near vehicles and other moving equipment/vehicles.
Prevent Caught In-Between:
Do not enter an unprotected trench or excavation five feet or deeper without a protective system.
Make sure the trench or excavation is protected by sloping, shoring, benching, or a trench shield system.
Before starting work, identify machinery or other areas where an employee could be caught in or between.
Preventing Electrocutions:
Identify utilities before digging.
Look for and identify overhead power lines before starting work.
Use GFCI outlets for protection.
For more information on the Focus Four Hazards, and for training programs, visit: https://www.osha.gov/dte/outreach/construction/focus_four/index.html
This blog post was written by Carri Lamb, Loss Prevention Representative for West Bend.