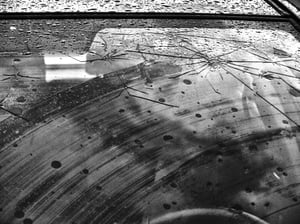 A heavy hailstorm occurred at an auto dealership. West Bend gathered details about the type and size of hail as well as general damages to the vehicles. We requested the insured send the inventory of their vehicles, including service vehicles they had on the lot on the date of the storm. We obtained the list of inventory and sent an appraiser to inspect the lot. Unfortunately, the insured's list of inventory on the date of the loss exceeded his $150,000 location limit. The insured hadn't told his agent that he was no longer using one of his other locations and that he had moved those vehicles to the loss location. West Bend did agree to move that coverage to the loss location, which then changed the limit to $200,000. The insured's inventory in the amount of $235,797 still exceeded the limit at the loss location. The loss was settled with a coinsurance penalty and paid at 84.8 % of the loss after deductible. An insured is required to carry 100% of insurance to value, meaning they must insure all vehicles they own under their coverage form. If the insured purchases an inadequate limit, then a coinsurance penalty will apply. Let's take a look at the calculations:
Coverage limit $200,000/Inventory Value $235,797 = $84.8% is what the loss was paid at as the inventory limit was greater than the coverage limit.
Total settlement amount after the $500 deductible was applied to each vehicle = $60,538.50.
Eighty-one vehicles had damage that exceeded their deductible; therefore 81 deductibles of $500 each were applied.
Total settlement amount after deductible $60,538.50 paid at 84.8% = $51,336.65 paid for the loss.
It's important to know that comprehensive coverage for this type of business insurance is per location; it's not a blanket coverage that could be applied to any/all locations. Auto dealer business owners should make sure to discuss location limits with their agents throughout the year to ensure the limits are appropriate for their inventory. An auto dealer policy may have a per vehicle deductible with a maximum limit of deductible to be taken for the claim.
Remember to always consult with your insurance agent about proper coverage and let your agent know about any changes within your business.