The pandemic has created chaos around the world. Business owners everywhere are focused on figuring out how to do what's best for their employees, customers, and companies. Finding a balance between health and safety and much-needed income, at every level, is a challenge few were truly prepared to face.
Brick-and-mortar business owners are also navigating the benefits and drawbacks of being attached to a physical location. Depending on the terms of your lease agreement, you may have your hands tied when it comes to what you are and aren't able to do in response to the pandemic. Here are a few tips for making the most of this time as we get closer to returning to normal.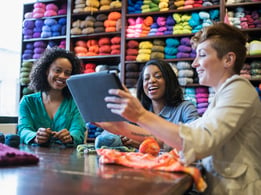 Create a Game Plan
Although the future is uncertain, you can be prepared for various possibilities:
Prepare to Reopen
As we get closer to returning to normalcy, start making plans for your brick-and-mortar space:
Collaborate with your team virtually to get ideas for upgrades or renovations you might make to your space.

Add a new coat of paint to make old walls look fresh and clean.

Hire a professional cleaning service to reduce allergens and make your space healthier for everyone.

Research payroll taxes to ensure you adhere to all IRS requirements for any new hires; ZenBusiness is a great resource.
Prioritize Health and Safety
Reopening doesn't have to put your team at serious risk:
Take measures to reduce the risk of spread among your employees, such as checking temperatures and asking about symptoms.

Advocate for a generous sick leave policy at the corporate level, so employees aren't tempted to ignore symptoms in order to keep their income.
Navigating the coronavirus pandemic is a serious challenge for business owners even as things are improving. We hope these tips help you find ways to keep your business running and your community safe.
For more than 125 years, West Bend Mutual Insurance Company has been providing valuable insurance coverages and services to home and auto owners, as well as business owners. Our vision is to be the company of choice for associates, agents, and policyholders. Find out more today!
This post was written by a guest blogger, Amy Collett.