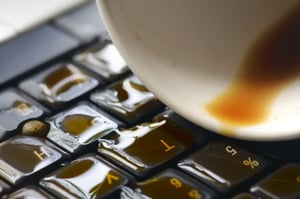 We all know the important role computers play in business. Especially if you're an accountant. A simple accident and poof, your computer and data are gone. Check out this real-life claim and see how insurance covered the damages.
A CPA was meeting with a client in the office. As the client reached over to hand her some papers, he spilled a cup of coffee on the computer. It was a brand-new laptop. Upon evaluation by a computer repair professional, the hard drive and motherboard were defunct and the data was lost. The computer turned on once, but then crashed. The cost for the computer work was $500.
The coffee spill was covered under the electronic data processing coverage. It cost $2,000 for a new laptop and $500 for the data transfer. After a $500 deductible was applied, $2,000 was paid to the CPA.
When purchasing insurance, ask questions and make sure you understand what you're buying and what it covers. Discussing all your options with your independent agent is best.