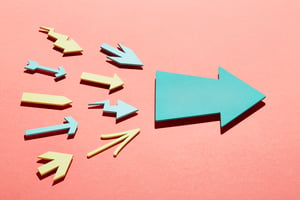 If there's one lesson to be learned from the COVID-19 pandemic, it's the value of having a plan for uncertain times. Given the curveball businesses around the world have been thrown with the coronavirus, it's been rather difficult for leaders and employers to learn how to navigate the current landscape of shelter-in-place orders, remote work, and nationwide closures. Now, some businesses have asked their employees to return to work, while others are continuing to work from home for the foreseeable future.
Keeping employees happy and productive and making sure their needs are met is important for the success of any business and the overall well-being of employees. This is especially important during uncertain times, such as a pandemic. Most employees are likely to be worried, anxious, stressed, or unhappy during this time. This can, in turn, lead to difficulties within the companies, across all departments. In moments like this, it's particularly worthwhile for leaders and employers to address these concerns for their employees, as well as to reinforce their company's values and leadership in an effort to help their employees make the most out of their employees during difficult times.
Show Your Support
During these unusual times, we've seen a big change in the work environment, namely, many employees are now working remotely. It also happened almost overnight, giving people little to no time to create appropriate workspaces in their homes or wherever they're working. Prosoft Engineering recently published a basic guide for remote working, which is a great way to target what your employees could be lacking at home.
Consider what employees need to operate smoothly and efficiently from home: an extra monitor, a printer, backup storage, and reliable, fast internet. Consider if possible, helping employees with this tough transition by providing more office equipment to use at home to help optimize their remote workspaces. If it's not possible to provide equipment, there's also the option of having regular meetings to give advice to people working from home for the first time.
Meetings could be about setting boundaries with family to help keep personal and professional lives separate. They could also focus on the importance of stepping away from the desk to go for a short walk to avoid burnout. Due to the uncertainty of when life will return to normal, it's worth the investment and time necessary to set employees up for success while working from home.
Reinforce Important Values and Personal Brand
In times of chaos and fear, such as we're experiencing now, most employees will be looking closely at their employers and leaders. It's important to always remind employees of the company's values, but these days especially, people are looking to see if their employers are willing to put those values into practice.
To truly motivate employees, leaders should look within themselves and figure out what their personal brand is and how they can convey that in a way that aligns with their employees. When it comes to defining good leadership and a personal brand, leaders need to start by asking themselves the right questions. Consider these questions, "Who are you and how does the way you treat others influence your ability to be an effective leader? What do you stand for and what will you not stand for? What do you want to be known for? What role did your values play in key successes or failures in your life? What values do you admire in others?" In times of uncertainty, identifying and conveying personal values will build better connections and trust, which is valuable to employees during times like these.
As everyone tries to cope with and navigate this strange, new, COVID-19 world, it's important for employers and leaders to find innovative ways to manage and support employees. Healthy and happy employees are often a reflection of their leaders and a company's commitment to helping during uncertain and stressful times.
This blog was written by a guest blogger.