A common feature at child-centered organizations is playground equipment, both indoors and outdoors. Children love climbing and sliding, and plenty of play is good for their physical development. However, we also see many claims from children who get hurt from falls from this equipment. Organizations need to be mindful of correct installation and supervision to keep kids safe.
On our website, we have an article detailing the many safety aspects organizations should consider when installing playground equipment. One important issue that is often overlooked is ground cover. Adequate ground cover can go a long way in preventing injuries from falls. For outdoor playgrounds, grass is not adequate ground cover and a playground should never be installed over concrete. Wood chips, mulch, wood fiber, sand, and pea gravel are acceptable options for ground cover, according to the Public Playground Safety Handbook. Ground cover depth requirements depend on the height of the equipment.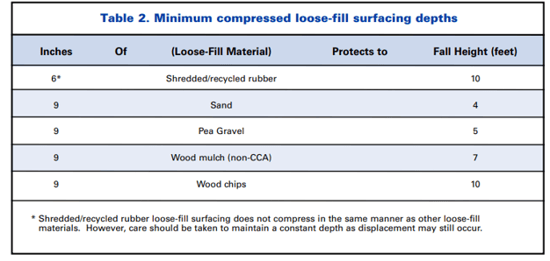 Sometimes organizations install playground equipment indoors. If there is any equipment that is not enclosed, installing the equipment over carpet or a tile floor will not protect children from fall injuries. In these cases, the organization should install surface mats that are tested to provide protection from the height of the equipment. For example, mats used for gymnastics equipment can protect children if they fall off the equipment.
Besides ground cover, proper supervision can help keep children safe on playground equipment. Children should be playing on age-appropriate equipment and the adults responsible for them must monitor their play. This is the only way to ensure children are playing safely and using the equipment appropriately.