Our phones are with us wherever we go; most of us would be lost without them. While smartphones can pose hazards to drivers by being a source of distraction, there are also some good things that comes from this technology. GPS navigation and maps are very useful and important while driving. There are also apps that users can download that'll help them become safer drivers. These apps are useful for all drivers, from casual commuters to employees who drive for their jobs.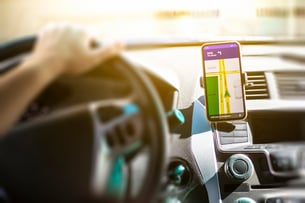 These apps can be helpful in several ways. They can track different types of data while you're driving, providing you with useful metrics to help increase safety. Here are a few more ways that these apps can help you become a safer driver:
Data increases your road awareness. The metrics from these apps can help you see areas where you could drive more safely.
Apps can change your smartphone habits. Some apps will block you from using your cellphone while driving or will track if you pick it up.
Drivers walk away with specific tips. These apps can provide driving feedback specific to you and your driving habits, instead of just generic safe driving advice.
Drivers can challenge themselves to get better. Some apps will give you a score that you can try and improve each time you drive.
Check out our safety summary with more detailed information about how these apps can help you. There's also a list of apps and their specific benefits!