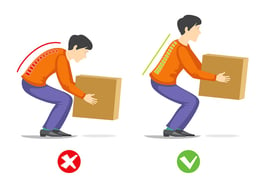 More than 700 back-related injuries occur every day due to improper lifting techniques. According to the Bureau of Labor Statistics, there are more than 269,000 back injuries every year in private industry alone. Back injuries account for more than 25% of all lost-time injuries.
Proper lifting and handling techniques protect against injuries and make tasks easier. There are four basic steps in this process, and each step has basic principles one must remember to effectively reduce serious injury:
Planning
Lifting
Carrying
Lowering
For a full explanation of these principles and to download this technical bulletin, click here.