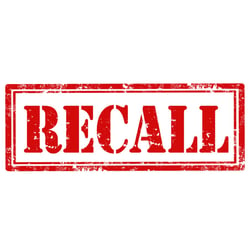 Staying up-to-date with product recalls can keep you, your family, and your business safe. Today we're going to take a look at a great online resource from the U.S. Government and a brief history of the ten worst product recalls.
The website,
www.Recalls.gov
, lists the most
recent
product recalls issued by the six federal agencies participating in recalls.gov. The website lists nine separate products categories:
Consumer Products;
Foods, Medicines, Cosmetics;
Meat and Poultry Products;
Motor Vehicles;
Child Safety Seats;
Tires;
Vehicle Emissions;
Environmental Products; and
Boats and Boating Safety.
Visit the website to see if any products you use are shown on the recall list. You can find the categories by clicking on the red circle labeled Recent Recalls.
This is TIME Magazine's list of the top-ten most prominent product recalls in history:
Ford recalled 1.5 million Pintos in 1978 due to concerns that a rear end collision could cause the gas tank to explode. The Pinto was retired for good in 1981.
2010 Infantino baby sling recall due to a suffocation risk.
2010 Toyota recall of 4.1 million vehicles to fix faulty gas pedals.
More than 400,000 Chinese-made, drop-side cribs were recalled in 2009 due to a suffocation risk.
In 2008, China's largest provider of milk powder recalled 700 tons of baby formula that contained a chemical called melamine.
In 2000, Bridgestone/Firestone Inc. recalled 6.5 million tires because treads on certain tire models would peel off, causing the tire to blow out.
In 2008, the Department of Agriculture recalled 143 million pounds of beef after a California slaughterhouse was accused of improperly butchering cattle that were too sick or feeble to walk to slaughter.
In 2008, the FDA conducted a massive recall of processed peanuts due to salmonella contamination.
In 1982, Johnson & Johnson spent millions of dollars recalling Extra Strength Tylenol from stores nationwide. Seven people in the Chicago area died after ingesting Tylenol laced with potassium cyanide. That crime has never been solved.
In 2004, pharmaceutical giant, Merkt, voluntarily recalled its worldwide stock of Vioxx. A study found that patients who took the drug for at least 18 months incurred more heart attacks and strokes.
This blog post was written by Joan Kuhn, Commercial Lines Specialist for West Bend.