Before we know it, summer will be here. Summer typically means youth-serving organizations offer camp programs, giving children a chance to spend time with their peers outdoors. While things aren't quite back to normal, hopefully this summer will be a little bit closer than last year. However, the pandemic is still going to require organizations to adjust their typical plans to keep children as safe and healthy as possible.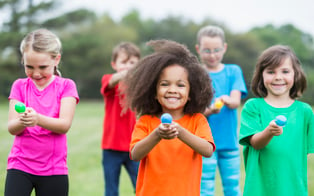 The American Camp Association (ACA) has a COVID resource section on their website with lots of useful information to help camps plan for this summer. There's a map with links to each states' camp operating guidance. It's important for programs to ensure they're following their state's guidelines for masks, number of children in each group, and cleaning/sanitizing.
Programs should make sure they're stocked on cleaning supplies and hand sanitizer and they've trained employees on any new cleaning procedures. Camps should also develop a consistent health screening program for use when children arrive at camp, either at the beginning of their stay or daily for day camps. The ACA also has a comprehensive field guide with sample policies from the Centers for Disease Control and Prevention (CDC) and safety suggestions for all types of programs.
Many children across the country look forward to participating in summer camp every year. With some planning and preparation, organizations can offer a safe and healthy environment for campers this summer.