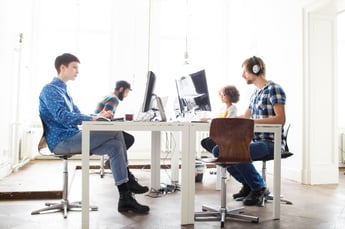 Millennials. Some think it's a bad word. On occasion, millennials have received a bad rap by the press, but in reality, just as with other generations, their upbringing and surroundings have shaped what they respond to and who they are. The fact remains that leadership should include them in their strategic business plan. Why, you ask? According to Price Waterhouse Cooper, by 2020 millennials will comprise 50% of the global workforce. As baby boomers retire, millennials are becoming the majority in the workplace.
Aside from their large population in the work force, they are digital masters. They've grown up with smart phones, social media, and internet always at the tips of their fingers with instant access to anything and everything. Their ambition and desire to keep learning will sustain them as masters of key business tools. More so than any previous generation, they will push the innovation envelope.
What do millennials desire? Here are a few things to consider:
Compromise. If it's not in your vocabulary or your culture, it needs to be. Work-life balance is imperative. Employers need to offer flexible work schedules and locations, as well. Work from home days combined with time in the office and flex schedules to allow for appointments are key.
Advancement. Patience is not a millennial's forte. Organizations offering career development, high-touch feedback and follow up with millennials will help you keep them engaged and content. They expect to move up the corporate ladder rapidly. Promoting from within and supporting cross-department moves allows millennials to grow and try other job functions if they are not satisfied.
Recognize their Values. Millennials want to work for companies that match their ideal corporate social responsibility. With a strong sense of civic duty, if you support causes near and dear to their hearts, you will gain their loyalty.
Using communication that speaks to each generation is important in any business. To help you address that issue, we have teamed up with some experts on the four generations in the workplace and other topics such as leadership and networking on LinkedIn. We encourage you to peruse our videos, articles and free downloads here for both your personal and professional use.