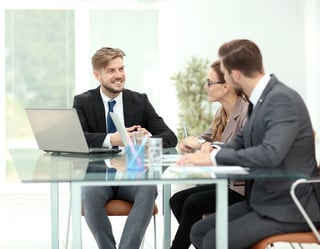 We're all professionals, and, as such, people expect that we act that way. These tips are great reminders for ways you can put your best professional image forward!
1. Call people by their first names.
2. Make eye contact as much as possible when conversing in person.
3. Be a good listener.
4. Answer your phone with your first and last name. And smile!
5. Change your office voice mail daily or weekly. When away, let callers know when you'll return.
6. Keep your voice mail as brief as possible.
7. Before ending a meeting or call, ask, "Is there anything else I can do for you?"
8. Know the preferred communication channel for your client: Phone, email, text, etc.
9. Never speak ill of competitors. You'll be the one who looks bad.
10. Advise clients of changes, outstanding issues, etc. It's better to take the initial action than to receive a call from a client asking, "Hey, what's going on?"
11. When you're greeting someone, be the first to extend your hand for a handshake.
12. Stand up to shake hands.
13. Use grammatically-correct English. Never, ever swear.
14. When you make a mistake, admit it. Fix things if you can.
15. It's not shameful, nor will it diminish you in any way, to say, "I'm sorry" if you need to do so.
16. Be punctual for all meetings and appointments. Call in advance if you're delayed.
17. Treat everyone the way you'd like to be treated.
18. Have fun and enjoy your work. Remember, attitude is a little word with great meaning!
Put your best professional image forward and earn the business you deserve!
This blog was written by Ted Habak, Senior Regional Sales Manager - Ohio.