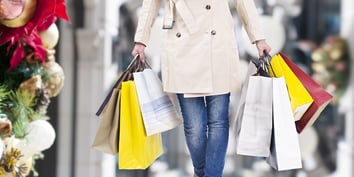 I saw an ad today for Black Friday deals. Social media posts and TV commercials are counting down the days until the holidays. Retailers have been planning for months for the holiday shopping season. While it brings joy to many people, it can be challenging for retailers as payment fraud is on the rise.
If you have credit cards, you've likely received updated chip enabled cards. Chip-and-pin technology has been at the forefront of the news and many believe it's a solid way to mitigate credit/debit card fraud. While this addresses one challenge facing retailers, according to the 2015 AFP Payments Fraud and Control Survey, paper checks continue to lead as the payment type most susceptible to fraudulent attacks. In 2014, 77% of companies that were targets of payment fraud, reported checks as a method of fraudulent payment. They remain at the top of the list despite their decline in use.
Here are some indications that a check may be fraudulent:
The check number is low, such as 0 to 400 on personal checks or 1001 to 1500 on business checks.
The check number or bank routing number is missing.
The check is damaged, mangled, taped, or glued.
The bank's address is missing.
The customer's address is missing.
There are discolorations on the check that may indicate tampering such as erasures or alterations.
The check doesn't have perforations.
The word VOID appears across the check.
The font used to print the customer's name looks visibly different from the font used to print the address.
The numbers printed along the bottom of checks (Magnetic Ink Character Recognition, or MICR, coding) is shiny. Real magnetic ink is matte in appearance.
Simply ask for another payment if you suspect a check is fraudulent to protect yourself and your business. To read more on check fraud including more tips for the consumer and business owner, visit the National Check Fraud Center.