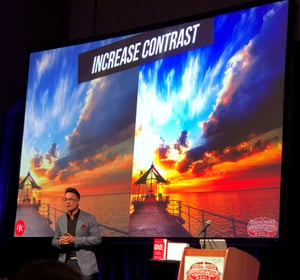 After attending a recent social media conference, I wanted to share some pointers that may help you market your business using social media.
Have you ever heard of an influencer? Many of us hear the word influencer and we immediately think of our favorite athlete promoting a brand. But Brian Fanzo spoke to conference attendees about our fans being our greatest influencers. He believes we focus too much time on the bad and need to share more of the good. A thumbs up or thank you isn't enough. Take it one step further and show you care. Reply to messages sincerely and with your heart to connect more with others. If you turn one fan into an influencer, you've won.
"Activate your alphas," Chris Strub said in his session on how to network and build your authority on Twitter. Once you dive into your data, find who shares your content the most. Start meaningful conversations with them. Send a video greeting instead of a standard tweet.
Many experts shared their favorite tools/apps that we plan to check out:
Easil
Tailwind
Hype Type
Drool
Fastory
Storyboardthat.com
Designrr.io
Typo.io
Videohive.net
Digitaljuice.com
IFTT.com
Adobe Capture CC
What the Font
Twitonomy
Dan Gingiss shared his WISER method for how to get people to talk about your brand positively: Be Witty, Intentional, Shareable, Extraordinary, and Responsive.
Simple changes, like these suggested by Nicholas Kusmich, can make a huge impact in your Facebook ads. To make images pop on Facebook ads, increase the contrast. Provoke emotion through a story. When picking images for Facebook ads ask yourself, "If I wasn't allowed to use words, what image would I use?" Start Facebook ads with a yes question, such as "Ever lie in bed wishing you could sleep?" Your targeting will help get your ad in front of the right people who will connect with what you're asking.
When Mari Smith gives an update on the future of Facebook, everyone listens! She shared these great tips. Marketers should focus on sharing great content via video, stories, and watch parties in Facebook. Pre-recorded videos that are 15 seconds – 3 minutes long and live videos that are 7 – 20 minutes long perform best. Facebook stories are growing 15x faster than feed content. Early adoption of Facebook Story ads is key – it's cheap now because not many people are using them. Facebook is moving towards more private interactions. Messaging will continue to increase as well as Facebook Groups.
One of our favorite keynotes of all time was this year from speaker, author, and business consultant, Mark Schaefer. Customer loyalty is at an all-time low. Customers shop around. Marketing isn't about your story. It's about the customer's story. Personal brand is now the company brand. Your culture is your marketing. Build peak moments into customer experiences. Be more human in everything you do. Show your personality and show your faces. The most human company will win!
Do you have any tips you'd like to share? I'd love to hear them; please share them in the box below.