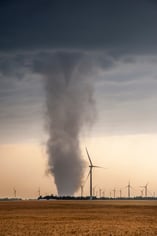 Keeping your employees safe is probably near the top of your list of priorities as a business manager or owner. But, does your organization have a tornado action plan in place? Too often, the largest contributor to tornado injuries and deaths is failure to respond to warnings. People who aren't prepared are often caught off guard and don't have ample time to seek proper shelter or warn others about approaching tornadoes. Being prepared will help protect you and your employees.
Watch vs. Warning
Tornadoes develop rapidly so it's important to monitor the weather closely during any type of storm activity. The United States National Weather Service will issue alerts during storms to inform people of the likelihood of a tornado forming.
Tornado Watch: A watch is issued when conditions are favorable for either a severe thunderstorm or tornado. It doesn't mean severe weather is imminent.
Tornado Warning: A warning is issued when a tornado is occurring somewhere in the area or a tornado touchdown is imminent. This is typically when a tornado siren will sound. Seek shelter immediately and wait until weather stations announce it's safe to exit.
Tornado Planning and Drills
Develop a plan for your organization. Tornado action plans differ greatly depending on location, type of organization, and what's going on at the time of the tornado, but all tornado plans include:
Identified and marked tornado shelter areas;
A schedule of when drills and employee training will occur;
Prepared tornado relief kits (battery power flashlights, food, water, blankets, radio, etc.); and
Communication to members about tornado emergency procedures.
Educate staff. Key areas include how to assist guests and other tornado procedures. . Staff should be trained on what areas to search for guests, where the safest areas are depending on their location, and how to communicate with other staff.
Know your community's warning system. Depending on where you live, your warning system may differ from somewhere else. It's important to know what the system is so you can respond immediately.
Locate all gas, water, and electrical on/off switches. Make sure all staff members are familiar with switch locations and the proper procedures for shutting them off. This step is important because after a severe storm or tornado gas leaks can result in explosions, water leaks can cause further damage, and powered on electrical switches can cause electrocutions.
Monitor radio and television for information. Monitoring radio and television for inclement weather is always advisable, especially when outdoor activities are planned. It's important to increase the frequency of monitoring when the skies look threatening or if the forecast calls for thunderstorms.
Have a NOAA Weather Radio. These devices are activated during severe weather and sound an alarm immediately once an alert or watch is issued. To learn more about this life-saving device visit www.nws.noaa.gov/nwr.
Make sure that designated tornado shelters are clear and accessible. All too often we use these designated spaces for storage of other items.
What You and Your Staff Should Do
Once a warning is issued, it's important to act quickly and make sure everyone is accounted for and safely located in the designated tornado shelter areas. Depending on where you are when the warning is issued there are varying degrees of safe locations to be in during a tornado.
In an office building: Follow your tornado drill procedures. Go directly to the designated tornado shelter, if possible. Or, go directly to an enclosed, windowless area in the center of the building and on the lowest floor possible. Interior stairwells can be a good place to take shelter. If it's not crowded, move to the lowest level quickly. Crouch down and cover your head. Stay away from elevators; if the power goes out, you could be trapped.
In a vehicle: There's no safe option if you're caught in vehicle during a tornado, but there are some things you can do to try to stay safe. If you can see that the tornado is far away, and traffic is light, you may be able to drive out of its path by moving at right angles to the tornado. Seek shelter in a sturdy building or underground if possible. If you're caught in high winds or flying debris, park the car as quickly and safely as possible out of traffic lanes. Stay in the car with the seat belt on. Put your head down below the windows and cover it with your hands and a blanket or coat. If you can safely get lower than the level of the roadway, for instance, to a ditch, leave your car and lie in that area, covering your head with your hands. Avoid seeking shelter under bridges.
Outdoors: If possible, seek shelter in a sturdy building. If not, lie flat and face-down on low ground, protecting the back of your head with your arms. Get as far away from trees and cars as you can; they may be blown onto you in a tornado.
After the Tornado
Stay with others and wait for emergency personnel to arrive. Remain calm and alert, and listen for information and instructions from emergency crews or local officials.
If necessary, try to provide aid to anyone who's injured. Stay away from power lines and puddles with wires in them. Watch for broken glass, nails, and other sharp objects. Stay out of heavily damaged buildings. Don't use matches or lighters in case leaking natural gas pipes or fuel tanks are nearby.