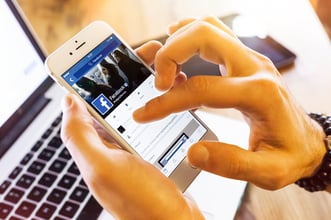 The options are endless for marketing your business. TV, radio, billboards, direct mail, email, newsletters, and social media are just a few. If you aren't using social media at all -- or even regularly, you're missing out on a chance to reach massive numbers of consumers - those who use social for both researching and purchasing power. Four in ten social media users have purchased an item online or in-store after sharing it or marking it as a favorite on Twitter, Facebook, or Pinterest. As for numbers, Facebook alone has 1.5 billion users worldwide. Moreover, with mobile phone users in the U.S. at 184 million, you can reach those people right in the palm of their hands at any time. An offer you'd be crazy to ignore.
What's the best way to reach the most people without breaking the bank? Facebook is one of the most frequently-visited social media platforms to reach consumers and promote your services/products while showing the personal side of your business, your employees, and more. Facebook's algorithm (yes, Facebook decides which of your followers see all of the updates you create) is always changing. Getting organic, or unpaid reach, is getting harder and harder. Facebook has provided a way to increase visibility and reach using video. Video trumps any other type of post, especially live video. As CEO Mark Zuckberg said on his Facebook page, "Live is like having a TV camera in your pocket. Anyone with a phone now has the power to broadcast to anyone in the world." As I stated before, with more than 1.5 billion users worldwide, you have the opportunity to highlight your business from just about anywhere to the consumer masses. And it's free. Well, as of right now. Who knows … that may change in the future.
Why live?
Priority. Facebook considers video more important and gives live video priority over all other posts. For example, let's say you follow Nike on Facebook and they go live to promote a new shoe. You're scrolling through the news feed and it pops up to the top so you see it first.
Engagement. It allows you to connect with your followers. As you're live, your viewers can ask questions by typing them in. You can then call them by name and answer their questions on the spot.
Build your Library. Facebook automatically saves the live video on your page, allowing you to build a library of video resources. You can go back and edit, change the thumbnail, and add to the description. Moreover, if someone missed your live broadcast, Facebook sends a notification that your company was live and fans can view the video later on your page.
What should I cover live?
It depends what your goals are. Only you know, but here are a few ideas of ways you could use Facebook live:
Behind the scenes. If you manufacture a product, take viewers for a peak into your operations. If you have a state-of-the-art facility, take them on a tour.
Charity events. Take viewers with you to philanthropic events in which your company participates– 5k walk/runs, fundraisers, etc.
Employment opportunities. Are you hiring for a specific or tough-to-fill role? Sit down and discuss the opening with your HR representative and the hiring manager. Detail the position, tour your facility, provide benefit information, and allow viewers to ask questions.
Brag a little. Did your company win an award? Was it featured in the news for a philanthropic event? Cover those things live or go live with a recap.
CEO sit down. How cool would it be to have access to the company CEO?
New product or service. Launch it on live. Give the people who tune in the first opportunity to see it and/or purchase it. Offer a special discount code for joining the broadcast.
Employee of the month. Feature them with live interviews. Especially if they have contact with your clientele to build and reinforce relationships.
How to's or DIY. Demo and teach your viewers how to do or make something.
Be creative. You know your business best. Cover a multitude of topics and events. Watch the insights Facebook provides to see what subjects matter most to your viewers. Also, try live at different times throughout the day and evening. Check your Facebook insights and try to hit the peak day and time your followers are online. Finally, have fun with it!
I've told you the why, now you need the how. There are so many great online resources that walk you through Facebook live step by step. Here are a few I recommend:
How to Use Facebook Live: A Complete Guide by Hubspot
Tips for using Facebook Live by Facebook
To view our Facebook Live videos, click here and scroll down to the Facebook Live playlist.
I'd love to hear from you. Please share your comments and feedback in the box below. Thanks!
References:
Important Social Media Marketing Trends for the Service Industry in 2016
Is Social Media the Biggest Influencer of Buying Decisions?
Infographic: 46% of Consumers Use Social Media in Purchase Decisions
Zuckerberg Really Wants you to Stream live Video on Facebook