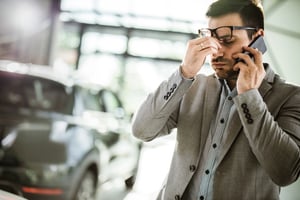 Unfortunately, identity theft is a reality in America. According to a recent study by Javelin Strategy & Research, there were 14.4 million victims of identity theft in 2018. New account fraud alone accounted for $3.4 billion in losses. While situations like this can be devastating for individuals, they're not the only ones affected. Businesses are also affected by fraudulent activity. Here's a real-life false pretense claims scenario we've handled.
Our policyholder an auto dealer was contacted by a customer through email to purchase a 2015 Mercedes Benz the insured had on his lot. The dealer verified the customer had a valid license, completed a credit check, and gathered employment history and insurance information. The customer passed every check and test. The customer also met the financing requirements for the loan on the vehicle. The bank agreed to fully fund the loan 100% without any money down.
The entire transaction was completed electronically and the vehicle was shipped to the customer in Georgia. Because the vehicle sale occurred in Michigan, the title was sent to the customer once the Michigan fees were paid. Almost two months later, the bank contacted the dealer regarding potential fraud as the customer had yet to make a payment on the vehicle. The dealer tried to call the customer, but the line was disconnected. It was determined that the customer used a stolen identity to purchase the vehicle.
Our investigation determined this was a covered false pretense claim. However, the total amount of the claim was $59,995. Because the dealer's policy carried only a $50,000 limit for false pretenses, a total of $50,000 was paid to the dealer for this claim. The $1,000 deductible was absorbed into what was over the limit. As a business owner, it's important to review policy limits with your independent agent to ensure your business is properly covered.