It's safe to say that COVID-19 changed most aspects of our daily lives in 2020, and now, a year later it's still not business as usual for most organizations. The pandemic has forced drastic changes to the day-to-day operations of childcare facilities, schools, fitness centers, restaurants, and manufacturing facilities, just to name a few. Employers have had to confront many new issues regarding the virus and their employees.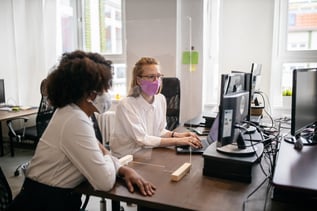 West Bend's weekly employee safety podcast, Safety Bytes, recently featured two episodes geared at helping employers understand a few aspects of the new normal. Episode 67, titled "Can Employers Require Employees to get Vaccinated for COVID? Should They?" discusses a few factors and implications employers should consider when thinking about the new vaccines that are available. Episode 73, titled "Enforceable? OSHA Guidance on COVID-19," reviews OSHA's COVID prevention program and considers if and how OSHA can enforce these safety guidelines.
Both podcasts are less than 10 minutes long, making them ideal for busy employers who are looking for some quick employee safety information for their organizations. Check out our full library of podcast archives, and come back weekly for new episodes!