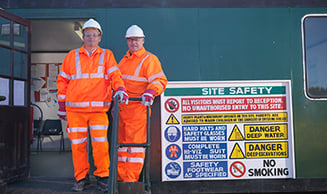 Safe + Sound Week
August 15 – 21 is Safe + Sound Week. The U.S. Department of Labor's Occupational Safety and Health Administration (OSHA) launched this nationwide initiative in 2017. The goal is to raise awareness and understanding of the value of safety and health programs. It's also a perfect time to recognize health and safety workplace successes. Organizations of any size and any industry are encouraged to participate. Participation has continued to grow since 2017, with more than 5,300 businesses helping to raise awareness about workers' health and safety in 2021.
Participating in Safe + Sound Week can help organizations get their safety and health program started or energize an existing one. Safety and health programs help businesses:
Prevent workplace injuries and illnesses.

Improve compliance with laws and regulations.

Reduce costs, including significant reductions in workers' compensation premiums.

Engage workers.

Enhance social responsibility goals.

Increase productivity and enhance overall business operations.
West Bend strongly advocates for effective safety and health programs year-round. Our highly-skilled team of loss control professionals has the experience and technical knowledge to help build and implement loss control programs tailored to the unique needs of each business they work with. Learn more about our loss control services.