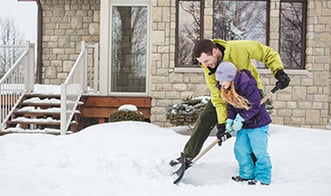 Tips for safe snow removal
This time of year, Mother Nature brings snow to many parts of the country. While children often eagerly look forward to snow because of the possibility of a day off from school or the opportunity to get out and enjoy winter activities like sledding and building snow forts and snowmen, it means something entirely different to many adults. For adults, it means dangerous driving conditions and clearing snow from sidewalks and driveways. Whether you use a shovel or a snow blower, there are risks associated with clearing snow, such as hypothermia, slippery pavement, back problems, heart issues, and operation of mechanical equipment. Please keep these tips from the American Academy of Orthopedic Surgeons in mind when you're removing snow.
In addition, it's important to remember the sometimes-forgotten insurance impacts of snow removal. Click here to learn more.