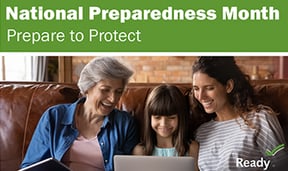 September is National Preparedness Month
Observed annually each September, National Preparedness Month reminds Americans that disasters and emergencies can happen at any time in our homes, businesses, or communities. This year's theme is "Prepare to Protect. Preparing for disasters is protecting everyone you love." Each week of the month, the campaign focuses on a different aspect of preparedness for individuals, families, and communities. This year's weekly themes are:
September 1 – 4 Make a Plan
September 5 – 11 Build a Kit
September 12 – 18 Prepare for Disasters
September 19 – 24 Teach Youth about Preparedness
Visit ready.gov for a variety of great resources on each of these topics.
While disasters can be devastating for families and communities, planning for them can help minimize the impacts and provide a basis for moving forward afterwards.