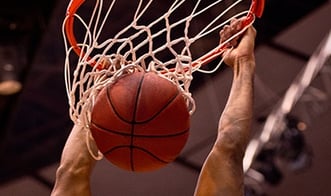 It's time for March Madness!
There's excitement in the air. Casual and avid basketball fans alike are tracking scores and watching their brackets closely. Underdogs are pulling off amazing upsets as Cinderella stories develop. No other time of year highlights basketball more. In fact, a 2018 survey found that the average employee spends six hours of work time on tournament-related activities, including, checking scores, peeking at highlights, examining their brackets, and talking to other employees about the games. It's estimated that March Madness will cost businesses $16.3 billion due to reduced worker productivity in 2023.
And while playing basketball is a favorite pastime for many, it's not without risk. A recent study found that between 2012 and 2021 emergency departments treated more than 4.4 million injuries that occurred while playing basketball. This was more than any other sport including football, gymnastics, wrestling, baseball, softball, and hockey. While a lot of these injuries were minor, many could've been prevented by taking simple precautions. Common injuries sustained in basketball include ankle and knee sprains, jammed fingers, bruises, cuts, and fractures.
Check out these great resources for more information on basketball safety, including tips for preventing and treating basketball injuries.
American Academy of Orthopedic Surgeons: Basketball Injury Prevention
Seattle Children's Hospital: Preventing and Treating Basketball Injuries