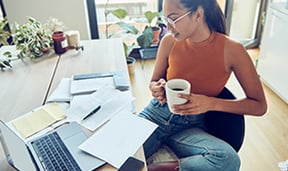 Avoid Mailing Delays by Paying Online
We understand the United States Postal Service is experiencing delays which may impact delivery of your invoice and your payment. We know how stressful that can be so we offer several quick and easy alternative ways you can pay your invoice using your credit card or checking/savings account. There's no additional fee for using any of these services. We recommend having your latest invoice nearby as you will be prompted for your account number.
Make a secure online payment at https://insured.thesilverlining.com/pay-bill.

Make a phone payment anytime using our automated attendant. Just call (800) 236-5002.

Talk to one of our Billing Team members by calling (800) 236-5002, Monday through Friday between 7:30am and 4:30pm CST.
In addition, enrollment in our Policyholder Portal allows you to view your most recent invoice, make a payment, and also set up an automatic payment rule which will pay your invoice on its due date using the checking or savings account you designate. If you're not yet enrolled, you may enroll at https://insured.thesilverlining.com/home#/associate-policy. Click on the Log In button to create your account. Enrollment in the Policyholder Portal also gives you the ability to access copies of your vehicle ID cards, submit a claim, as well as view electronic copies of your policy.