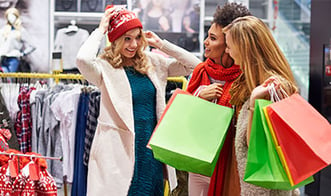 Play it safe this holiday season
The holiday shopping season is upon us. The National Retail Federation estimates holiday sales for 2022 will be between $942.6 and $960.4 billion. Whether braving the crowds of deal-seeking shoppers in stores or enjoying the comfort of their homes while shopping online, many people may be shopping for toys.
The Toy Association™ estimated the U.S. market size for the toy industry was $38.19 billion in 2021. With so many options available, shopping for the perfect gift for your child, grandchild, niece, nephew, or another special kid can be quite a daunting task.
While choosing toys that will excite and interest your loved ones is a key goal, it's also important to be sure you're selecting safe and age-appropriate toys. Don't worry! There are many great resources available to guide you through the toy gift-giving process.
Playsafe.org is loaded with information, including extensive safety tips, an age-by-age toy-buying guide, and more!
The American Academy of Pediatrics provides these guidelines for buying safe toys.
Kidshealth.org offers additional advice on selecting safe and age-appropriate toys.
And, if you're looking for specific toy suggestions, check out this site for a variety of lists and reviews to help you find toys by age, category, or interest.