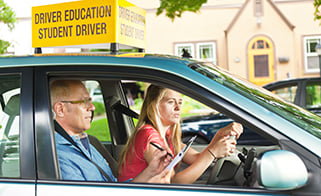 Driving school insurance
As the owner or operator of a driver training school, you're focused on preparing your students to safely maneuver the unpredictable roads ahead of them. Likewise, you need someone to help you navigate the intricacies of protecting your business with insurance. West Bend can help!
We offer a customizable insurance program designed especially for driver training schools. Our program is tailored to tutoring high-school age and older students in driving skills and safety, including classroom instruction, motor vehicle record improvement, and motorcycle training.
Our skilled insurance professionals will carefully evaluate your business and ensure you have comprehensive insurance coverage that protects every aspect of your business. Our business insurance offerings include General Liability, Auto Liability, Collision, Comprehensive, Property, Employment Practices Liability Insurance (EPLI), Inland Marine, Crime, Umbrella, and more. We can also handle all your bond needs, including license and permit, ERISA, and business service bonds.
And if something were to happen, you can have confidence that your claim will be handled by our professional and knowledgeable representatives who have decades of experience with businesses like yours.
To learn more about how a West Bend policy can protect your valuable business, talk to a West Bend independent insurance agent.