Recipients of the 2018 Spirit of the Silver Lining Award include: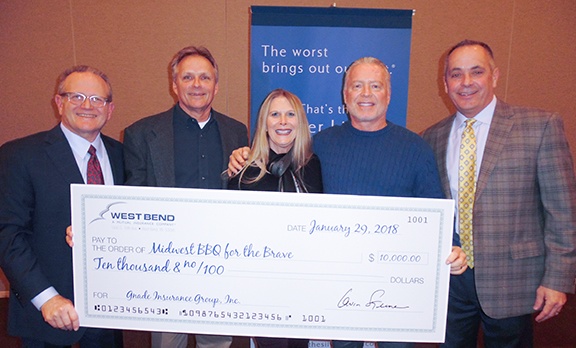 Jim Smith, Gnade Insurance Group, Inc.: Midwest BBQ for the Brave
In 2012, Jim and Gayla Smith hosted a BBQ in their backyard, raising $2,000 for Building for America's Bravest, a program that builds specially adapted, custom designed, smart homes for catastrophically injured service members. The BBQ has continued to grow, raising over $100,000 at the 2017 Midwest BBQ for the Brave event.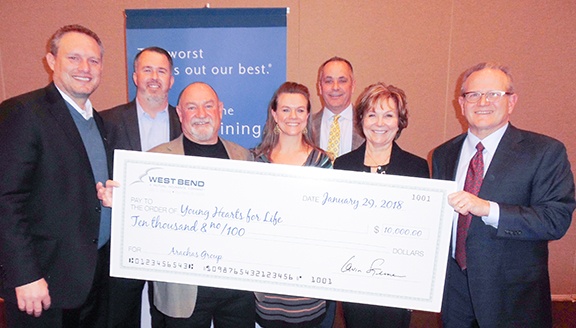 Kevin Lesch, Arachas Group: Young Hearts for Life®
Young Hearts for Life (YH4L) focuses on awareness and prevention of Sudden Cardiac Death, as well as school preparedness and family support in the case of cardiac emergencies. One key element of their mission is providing free ECGs to all students (not just athletes), to detect conditions which may cause Sudden Cardiac Death. The Elizabeth Grace Kunce Memorial Fund was established in memory of the daughter of agency's former owner. She passed away from Cardio Myopathy in October 2003, at the age of 22.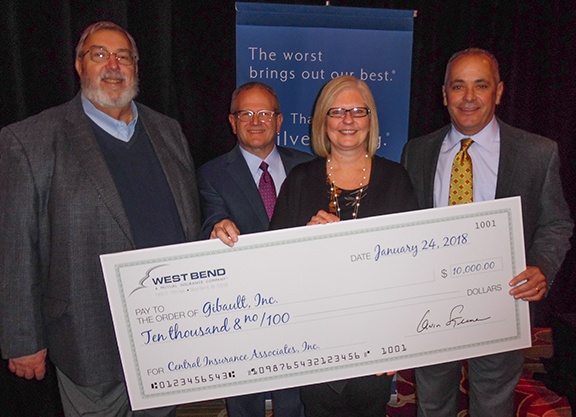 Jim Funk, Central Insurance Associates, Inc.: Gibault, Inc.
Gibault was founded in 1921 by the Indiana Knights of Columbus as a home for wayward boys. Over the years, Gibault has evolved to meet the ever-changing needs of troubled kids everywhere. Today, Gibault serves boys and girls and provides life-changing opportunities for children and their families.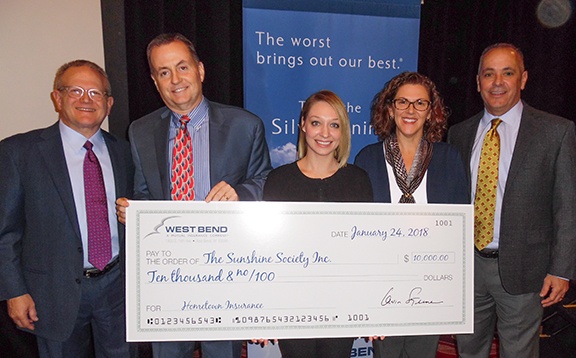 Brian Hosking, Hometown Insurance: Sunshine Social Club
The mission of Sunshine Social Club is to empower adults with intellectual disabilities, who have goals for supported or independent living, by creating social, educational and community opportunities. Brian and his wife Kelly both serve on the board. Their passion for this organization is driven by their son, who is autistic.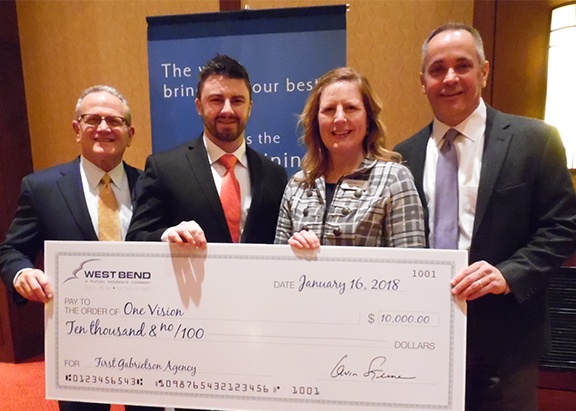 Jay Lefevre, First Gabrielson Agency: One Vision
One Vision serves people of all ages with many different needs or disabilities. Their mission is to support individual choice by providing services that lead to greater purpose and independence. This includes helping individuals find jobs in their communities, supporting them in homes that meet their needs and wants, and encouraging them to pursue personal interests.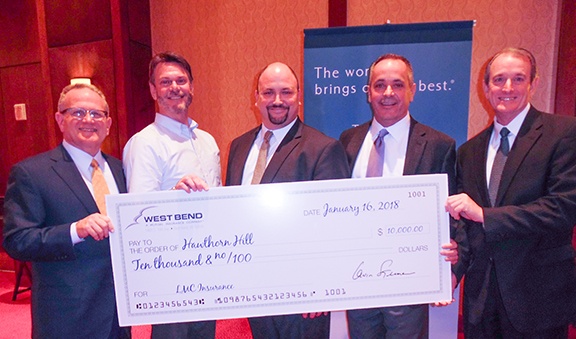 Brian Hughes, LMC Insurance: Hawthorn Hill
Hawthorn Hill's mission is to establish and operate housing programs for homeless families with children that help them obtain permanent housing and to provide services to help families achieve economic self-sufficiency. Their New Direction Shelter provides free, temporary, and emergency shelter to approximately 105-130 homeless families each year. Their Home Connection program provides permanent supportive housing for homeless families with children with an emphasis on helping the families attain financial independence.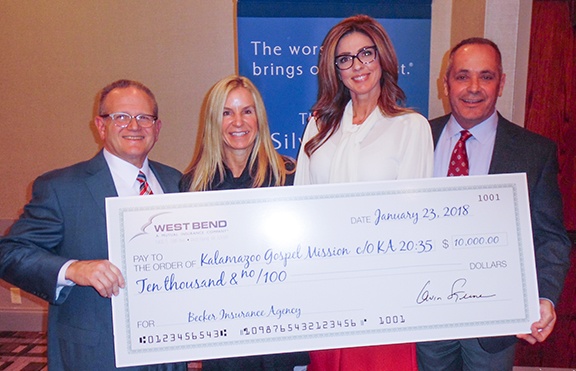 Shannon Myers, Becker Insurance Agency: Kindness Acts and Kalamazoo Gospel Mission
Kindness Acts is a group striving to make a difference through one small act at a time. They partner with the Kalamazoo Gospel Mission to provide children at the mission with special memories, including a giant carnival each year.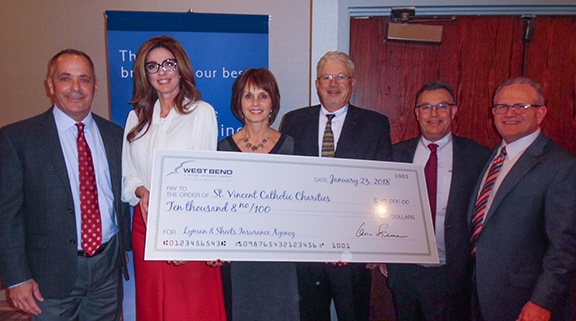 David Drayton, Lyman & Sheets Insurance Agency: St. Vincent Catholic Charities
Since 1948, St. Vincent Catholic Charities has provided support to people of all beliefs and ages. Their services include, adoption, foster care, a children's home, counseling services, refugee services, an immigration law clinic, and a communication and relationship enhancement program for couples.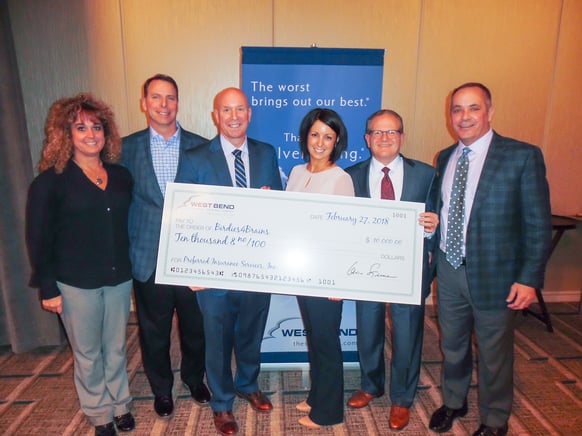 Brad Gombold, Preferred Insurance Services Inc.: Birdies4Brains
Birdies4Brains raises money to help families and individuals who have unmet needs as the result of traumatic brain injuries. This annual event puts a unique twist on the typical golf outing. Golfers tee off at 4:59am and play for 16+ hours until completing 100 holes each. What started with 12 golfers raising $10,000 in 2012 grew to 48 golfers in 2017 and a goal of $125,000 in 2018.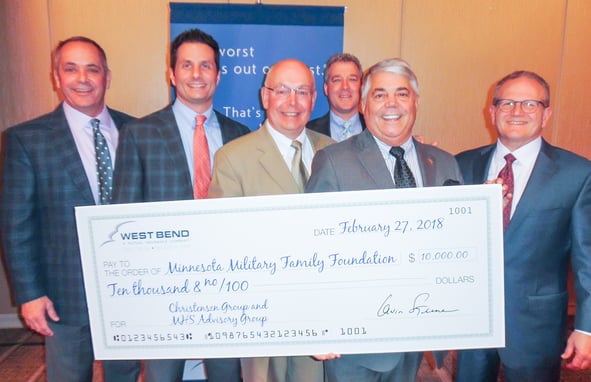 Shawn Flavin, Christensen Group and Tom Hokr, MHS Advisory Group: MN Military Family Foundation (MMFF)
The MMFF delivers financial support Minnesota military personnel, their spouses, and children with grants during times of extraordinary financial hardship, especially while they are deployed. The foundation provides funds for housing expenses, such as utilities, rent, and mortgages, household appliances and repairs, auto repairs, transportation and lodging for families to visit a soldier in the hospital, medical expenses, and family counseling.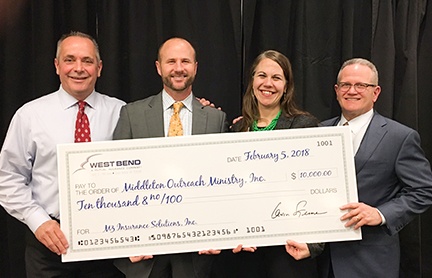 M3 Insurance Solutions, Inc.: Middleton Outreach Ministry, Inc. (MOM)
MOM's mission is to instill hope in our community through progressive programs and partnerships to prevent homelessness and end hunger. Their programs and services include, a food pantry, housing assistance, a clothing center, transportation, shopping, and chore assistance for seniors, and seasonal programs for back to school, Thanksgiving, and Christmas.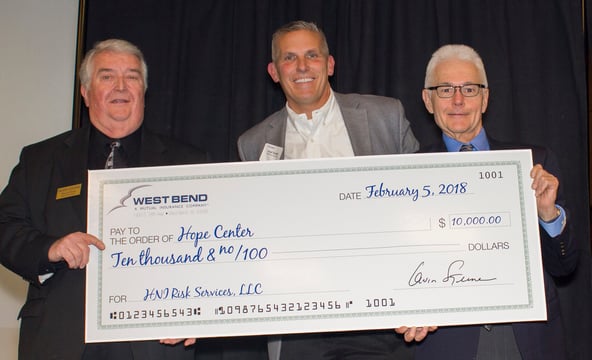 Chad Tisonik, HNI Risk Services, LLC: Hope Center
Started in 1987, all of the programs offered by the Hope Center focus on the prevention of homelessness. Their mission is to minimize the poverty risk factors that contribute to homelessness by providing for basic needs for clothing, food, and furniture. Programs include a clothing shop, outreach meals, a day center, a green power garden, financial assistance, appliance and furniture donations, and outreach nurse service.