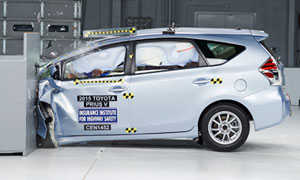 Are you in the market for a new vehicle? If so, here's some information that can help you in the decision making process.
Every year, the Insurance Institute for Highway Safety (IIHS) releases its list of vehicles that passed their stringent safety criteria. While the news is filled with stories about product recalls and safety issues, the IIHS helps the auto industry focus on safety through vigorous testing.
According to IIHS President Adrian Lund, this is the third year automakers have been given a tougher challenge. To earn the IIHS's 2015 Top Safety Pick + Award or the 2015 Top Safety Pick Award, automakers must earn a good or acceptable rating in several categories. I've identified the categories below.
Top Safety Pick + and Top Safety Pick Award Criteria
Front small overlap – this test looks at what happens to the front corner of a vehicle when it strikes a tree, utility pole, or another vehicle.
Front moderate overlap
Side impact
Rollover
Rear impact
When awarding the Top Safety Pick +, the IIHS looks at these criteria, as well as if the vehicle has an auto braking system. An auto braking system alerts a driver of a potential collision. If the driver doesn't respond, the system activates the brakes automatically.
To view the list of vehicles that received awards this year, select the link below.
To learn more about the science behind the report, as well as what automakers have done to improve their ratings, I recommend reading "Safety gains ground: More vehicles earn top honors from IIHS."
To see and learn more about the tests, select the links below.
Source:
http://www.iihs.org/iihs