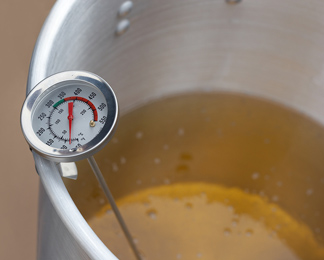 Did you know that more than 40 million Americans are going to travel at least 50 miles over the river and through the woods to Grandmother's (or another relative's) house this Thanksgiving? Maybe you're one of them.
My family and I will also be on the road as we travel about 40 miles to my parents for Thanksgiving.
Regardless of how far you go or if you spend your holiday at home, for many Americans, the turkey dinner is the highlight of the day. In fact, about 47 million turkeys will be served in homes throughout the U.S. this Thanksgiving!
Turkey fryers have become more popular over the years, but like anything, there are pros and cons to preparing your bird this way.
Here are the pros:

• Cooking time: It takes a lot less time to fry a turkey than to roast it in the oven. The average cooking time for a deep fried turkey is about four minutes per pound. For a 15-pound turkey, that's only an hour. By comparison, roasting a turkey in the oven can take anywhere from three to four hours, depending on whether it's stuffed.

• Flavor: Using rubs or injectable seasonings with a deep fried turkey can create some amazing flavor!

• Juiciness: A deep fried turkey can be really juicy, especially the breast which tends to dry out when it's roasted.
Now here are the cons:

• Dangerous: Cooking oil, especially so much of it, is always dangerous. That hot oil can overflow and splatter. If you plan to deep fry your turkey, PLEASE do your homework and make sure you know how to use your fryer correctly and safely.

• Property damage: Those oil overflows and splatters can damage whatever's near the fryer, like your deck, patio, floor, walls. To prevent this damage, and perhaps a fire, use the fryer in a safe place, far enough away from your home and other flammable materials.

• The stand: Even though manufactures have made improvements, the stand the pot rests on is narrow and can tip easily so be careful.

• Expensive: The cost of the oil can add up quickly, especially if you like to deep fry often.
Fires can start fast with a turkey fryer. If you use one, take a look at this video that shows how quickly it can happen when the proper frying steps are not followed.
Do you have any turkey fryer stories or safety tips you'd like to share? I'd love to hear them; please share them in the box below.