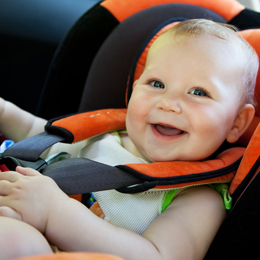 According to the National Center for Statistics and Analysis (NCSA) nearly 250,000 children are injured every year in car accidents. This statistic translates to nearly 700 children being injured on our roadways each day.
As parents, my wife and I spent a lot of time researching car seats when our two girls were younger. We wanted the car seat that would provide the most protection. While some seats were very expensive and gave me sticker shock, I never wanted to put a price tag on my girls' safety.
However, if we were injured in an auto accident and unable to communicate with the first responders, what would happen to our girls? This is something every parent should consider. Time is of the essence when the first responders arrive on the scene!
Fortunately, the Ohio Insurance Institute and the Ohio Council of the National Association of Insurance Women International joined forces to create TIKE, or Toddler Info Kept for Emergencies. TIKE is a bright neon green sticker that includes a child's emergency and medical contact information that goes on their car seat. This information in critical if you're unable to help the first responders with the care of your child.
To learn more about TIKE and to order your supply of stickers, please visit the Ohio Insurance Institute web page by clicking here.
This is a great and simple way to keep your children safe!
Do you have any car safety tips you'd like to share? I'd love to hear them; please share them in the box below.