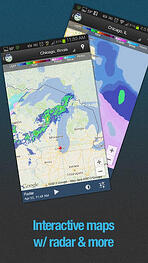 My thoughts and prayers go out to everyone in Oklahoma who experienced the devastation of last week's tornado. As a father of two daughters, it has been gut-wrenching to see the children displaced from their homes, families, and schools. I can't imagine what those people are going through.
As I reflected on this tragedy the past week, what I think is remarkable is the story of survival and how many people were saved by the advanced warning. According to the National Weather Service, the national average for tornado warnings is 14 minutes versus just 5 minutes in the 90s. The people in Moore had a 16-minute warning, but the tornado did not actually hit the center of Moore until 34-36 minutes later.
Here are some safety tools you can use to keep you and your family safe when severe weather approaches.
Weather radio – A weather radio broadcasts both normal and emergency weather information. If severe weather is near your area, an audio alert is broadcast to inform you of the impending danger. This warning system is particularly useful at night when you and your family are sleeping. I will admit that the alert is startling at night but it's well worth it as I don't usually hear the tornado sirens. Some radios also come with colored LED or strobe lights.
Another function of weather radio is broadcast information about a natural disaster, AMBER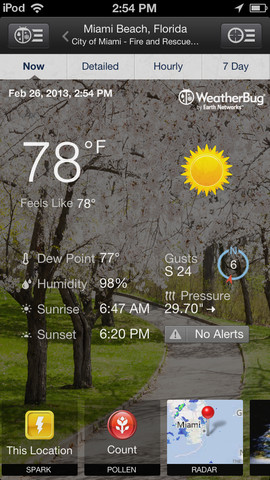 alert, or terrorist attack.
The most common weather radio is made by Midland and is sold in electronic stores, grocery stores, and drugstores. To learn more about weather radios and all of the options available, click on the links below.
National Oceanic and Atmospheric Administration
The internet – Websites such as The Weather Channel share breaking alerts and other weather conditions specific to your area. What I found at www.weather.com is the ability to sign up for free weather alerts via email or text messages. Click on the link below to register. You can select what kind of weather alerts you'd like to receive. All that's needed is your zip code, email address, and phone number.
Weather.com alert registration
Smart Phones – These are a great way to keep you and your family safe. There are many weather apps for iPhones and Android phones that can use your location settings to alert you of severe weather in your area. Like many people, I'm addicted to my iPhone. I pretty much take it everywhere so I have access to changing weather conditions in an instant.
The app I like is called WeatherBug Elite. This app is $2.99 in the iTunes and Google Play stores and provides very good information. On the home screen, I can see current weather conditions, an interactive radar, pollen count, alerts, and WeatherBug's exclusive lightening tracking system called Spark. Spark transforms your Smartphone into a personal lightning detector. The application finds your location through your Smartphone's GPS and determines how far away you are from a storm that produces lightning. The app shows you, in miles, the distance lightning is from your location. You can also view your location on a map to see where the lightning activity is occurring around you. This is a great safety tool if you and your family are involved in outdoor activities.
Did you know that between 1959 and 1994, 3,239 people were killed by lightning? Between 1995 and 2004, another 489 people died. On average, 54 people die each year from lightning strikes. It's important to realize that you or a loved one can be struck by lighting on a clear sunny day. If you can hear thunder, you're within striking distance.
To see a complete list of weather apps for your Smart Phone, click on the links below.
Do you have any tips or related information you'd like to share? I'd love to hear from you; please share them in the box below.