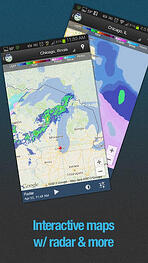 Every year we see devastation and destruction caused by tornadoes. It's gut-wrenching to see children and families displaced from their homes and communities.
Thankfully, due to advances in technology we hear remarkable stories of survival because of advanced warning. According to the National Weather Service, the national average for tornado warnings is 14 minutes versus just 5 minutes in the 90s. In storm situations, minutes can save lives!
Here are some safety tools you can use to keep you and your family safe when severe weather approaches.
Weather radio – A weather radio broadcasts both normal and emergency weather information. If severe weather is near your area, an audio alert is broadcast to inform you of the impending danger. This warning system is particularly useful at night when you and your family are sleeping. I will admit that the alert is startling at night but it's well worth it as I don't usually hear the tornado sirens. Some radios also come with colored LED or strobe lights.
Another function of weather radio is broadcast information about a natural disaster, AMBER alert, or terrorist attack.
The most common weather radio is made by Midland and is sold in electronic stores, grocery stores, and drugstores. To learn more about weather radios and all of the options available, click on the links below.
National Oceanic and Atmospheric Administration
The internet – Websites such as The Weather Channel share breaking alerts and other weather conditions specific to your area. The information they provide is robust.
Smart Phones – These are a great way to keep you and your family safe. There are many weather apps for iPhones and Android phones that can use your location settings to alert you of severe weather in your area. Like many people, I'm addicted to my iPhone. I pretty much take it everywhere so I have access to changing weather conditions in an instant.
To see a complete list of weather apps for your Smart Phone, click on the links below.
Do you have any tips or related information you'd like to share? I'd love to hear from you; please share them in the box below.