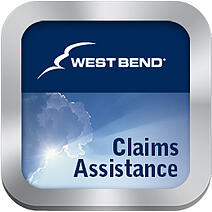 With summer in full swing, many of us are traveling to our favorite places up north, or are taking road trips to destinations across the U.S. Most of us enjoy our vacations and we don't experience any problems. Unfortunately, some of us may have a fender bender or run into poor weather while traveling.
Fortunately, West Bend has an app for our Home and Highway® policyholders that can help you with those unexpected claims. The West Bend Claims Assistance app is available for both Android phones and iPhones.
Once downloaded, the app will walk you through the process for setting up an account. When the account is set up, it will be ready if and when you need it. If there's a claim, the Claims Assistance App will provide step-by-step instructions for reporting it electronically, including taking photos at the scene. The app will also provide the DirectConnect® phone number if you prefer to call in the claim. And the app connects to a variety of safety resources on thesilverlining.com.
When there's a claim, emotions can run high. Panic, fear, perhaps even pain, can prevent you from thinking clearly. With West Bend's new Claims Assistance App, you can have an easy way to document the information needed to process the claim – while it's still fresh – and report the claim quickly so the process can begin.