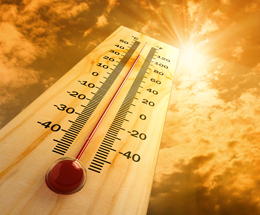 This week much of the country will experience hot temperatures with high humidity. These extreme temperatures can be very dangerous for young children, the elderly, people who work outdoors, and your pets. Extended exposure to extreme heat can cause illness or even death.
According to the Centers for Disease Control and Prevention, 8,015 heat related deaths occurred between 1979 and 2003. During this time, more people died from heat-related illnesses than from other natural disasters such as hurricanes, lightning, tornadoes, earthquakes, and floods.

There are several types of heat-related illnesses. They include heat exhaustion, heat cramps, heat rash, and heat stroke. Some of the risk factors for heat-related illnesses include:

• Amount of exposure to direct sun with an elevated heat index;
• Inadequate fluid intake;
• Working outdoors or participating in sporting events;
• Wearing dark clothing;
• Age;
• Weight; and
• Medications or medical conditions that can cause increased sensitivity.

The National Weather Service has created a brochure titled "Heat Wave: A Major Summer Killer."

This brochure contains information on:

• NOAA's National Weather Service Heat Index Program;
• How heat affects the body;
• Heat disorder symptoms and treatment; and
• Heat wave safety tips.

The Humane Society of the United States also has a great article titled "Keep Pets Safe in the Heat."
This article shares information on:

• The dangers of leaving your pet in the car;
• The affects of humidity on your pet;
• Tips on cooling your pet;
• Watching for signs of heatstroke; and
• A free flyer encouraging people not to leave pets in their car.

I highly recommend reviewing both documents and sharing the information with your family and friends. Stay cool!