We have many pet lovers at West Bend and this month we've covered several tips on how to care for cats and dogs. But what if your child brought home a bearded dragon from school? Would you know how to care for it?
That's exactly what happened to an associate here at West Bend. Here's her story, along with a West Bend Pet Show and Tell and a wrap-up of May's Pet Month.
---
Rachel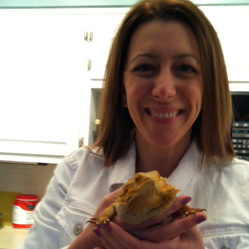 In my daughter's third grade classroom, the class pet is not your typical guinea pig or hamster. It's a bearded dragon named Fireball. The kids love being the Pet Vet for a week during the school year. This includes feeding and playing with Fireball.
The teacher, however, was having trouble finding a family to take Fireball during spring break so we reluctantly volunteered. When the teacher showed up with three different heat lamps, a giant aquarium, and bags of food, vitamins, and cleaning supplies, I got a bit nervous. Knowing nothing about bearded dragons, we followed the instructions to the letter. We got a little squeamish giving him the mealworms, but we managed.
Taking care of Fireball wasn't without surprises, either. We were scared to death when we noticed a heat lamp had burned out after returning from a weekend out of town! We know Fireball is cold blooded and doesn't make his own body heat so we were quite worried about him until he slowly began moving again under the new heat lamp bulb.
Imagine our surprise the next morning when we found several oval, white sacks in the aquarium. A text from the teacher assured us he had done this before; she thought it was some sort of sac he occasionally threw up. That night I spent a little time watching Fireball to see if I could see one of these sacks coming up. In a short time, I witnessed something quite amazing. These sacks weren't a sign of gastric distress after all. Fireball was a girl and she was laying eggs! When my daughter brought Fireball back to school, she revealed the astonishing news to the class and they all agreed she should be renamed...Firebella.
Rachel's Pet Care Tip:
Be sure you know the gender of your pet.
---
Rachel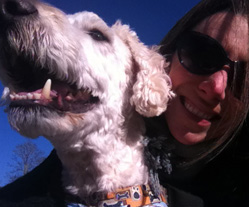 My favorite thing about Pogo is he just loves to hang out with us. He thinks he's a human.
Rachel's Pet Care Tip:
Keep his nails trimmed so he doesn't scratch the floor!
---
Kevin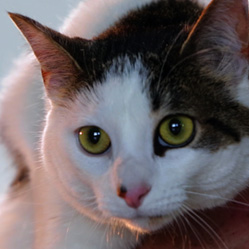 This cat is very social with immediate family. You need to pay attention to her when you first get home from work, or after you've have gone awhile, otherwise she just will not leave you alone! A few treats as a distraction sometimes does the trick, but she wants attention just as much.
We always have two areas of fresh water in the house for both Mia and our dog, Belle, to share. It's not uncommon to see both of them at or near the same bowl of water; Mia has no fear of Belle. In fact, Mia is sort of the boss between the two of them.
In warmer weather, we let Mia and Belle out on our deck with us (not alone). Mia is exclusively a house cat, however, in nice weather she does like to be outside. She usually sits right next to Belle. Mia doesn't stray toward the edge of the deck, nor has she left the deck to chase anything... at least not yet! We've learned Mia doesn't need to be on a leash or tether.
Kevin's Pet Care Tip:
Before letting your cat outside without a leash, understand what your cat's outdoor instincts are.
---
Elizabeth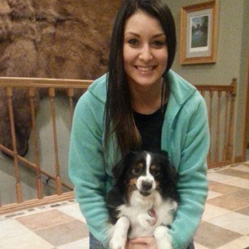 My favorite thing about Mia is that she's always so happy to see people, whether it's a stranger or a family member. She smiles and wiggles her butt to the side when she greets you.
Elizabeth's Pet Care Tip:
If you can, take your dog outside to play for a couple hours every day. Many dogs have lots of energy and love to run. Mia loves to chase birds, butterflies etc. If she doesn't get outside to release some of her energy, she bugs us all day and night to play ball or with one of her other toys.
---
Mandy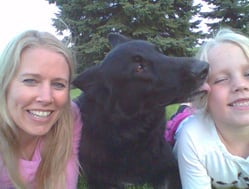 Mesa is an all-black German shepherd. She can look intimidating, but she's the nicest dog. However, if you happen to be a rabbit or a cat, you better run fast!
Now that it's finally getting nicer outside, Mesa is shedding like crazy, so we try to brush her more often. I walk her every day and she likes to chase tennis balls.
Mandy's Pet Care Tip:
Pets that shed a lot should be brushed often so they don't drive themselves crazy from scratching. And it can make a difference in the hair you find around your house!
---
Latte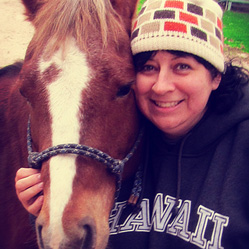 My favorite thing about Cocoa is his personality. He's a love-bug, sweet, silly, and has a great desire to please (only second to his great desire to eat!).
Latte's Pet Care Tip:
My pet care tip for horses is geared toward spring, when they love to go out and eat lots of fresh green grass. Spring grass is very rich, so start them out on pasture slowly - a few minutes each day and build on that. Each horse will have a different tolerance, so it's wise to ask your vet for advice.
---
Scott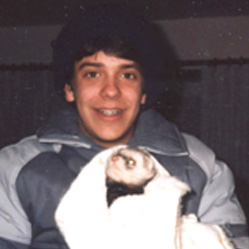 Growing up, I had a few pets that included Snoopy the goldfish, Speedy the turtle, and Bogie the ferret. We bought Bogie when I was in grade school. I was so excited because he was the first pet I could actually play with.
One of Bogie's favorite activities, other than escaping from his cardboard box, was playing fetch. We had a soft stuffed red tomato with a green stem on it. Wherever I threw it, Bogie was sure to retrieve it, waddling back with the tomato dangling from his month by the green stem.
Originally, we started feeding him dry cat food, but we quickly learned that he liked canned cat food much better. When it came to treats, he enjoyed milk, raisins, and peanut butter.
Scott's Pet Care Tips:
If you have a pet ferret, wash their bedding weekly, carefully trim their nails (they bleed if you cut them short), and don't bathe them too often.
---
Wendy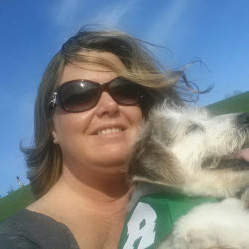 Chloe is my 12-year-old rat terrier/bichon frise mix. Chloe hates cameras so I had to hide my phone by my purse to take this picture at my son's Lacrosse game. She loves to ride in the car and go anywhere with her family. Two years ago, we were told Chloe had only days to live due to a giant bladder stone that filled her abdomen. We did some research and found a natural herb that's broken up the stone. Two years later, she's still with us, although her abdomen sounds like a sack of marbles!
Wendy's Pet Care Tips:
Good nutrition, a lot of TLC, and some creativity are some of the best tips a pet owner can have!
---
If you haven't checked out the previous pet care blog posts, you may want to. They focus on:
Do you have any pet care tips you'd like to share? I'd love to hear them; please share them in the box below.