In August, my blogs focused on a number of topics parents of school-aged children deal with every year. They were:
So, now that the new school year is just around the corner and all the school supplies have been bought, you probably think you can kick back and relax. Wrong answer!
Identity theft continues to be a growing crime. Identity thieves target people of all ages. While many think it won't happen to them, it can. Identity theft can even happen to our school-aged children. In fact, children offer just the right combination for identity thieves. They have a Social Security number and a clean or nonexistent credit report.
With each new school year come many forms that must be completed. From after-school programs to emergency contact information, we're doling out a ton of information, some of which is sensitive in nature.
IDT 911 and West Bend have collaborated in an effort to provide our insureds with the option to buy insurance coverage to protect them against identity theft. IDT 911 recently published an infographic titled "6 Top Risks to Your Child's Identity at School." This infographic identifies:
Where thieves look;
What they are looking for; and
Some tips.
If you think your child has been targeted by identity thieves and you're a West Bend insured with identity theft coverage, contact IDT 911. If you're not a West Bend insured, help is still available. Consider visiting IDT 911's Knowledge Center or TransUnion's website to learn more.
Download this infographic as a PDF (1.5 MB)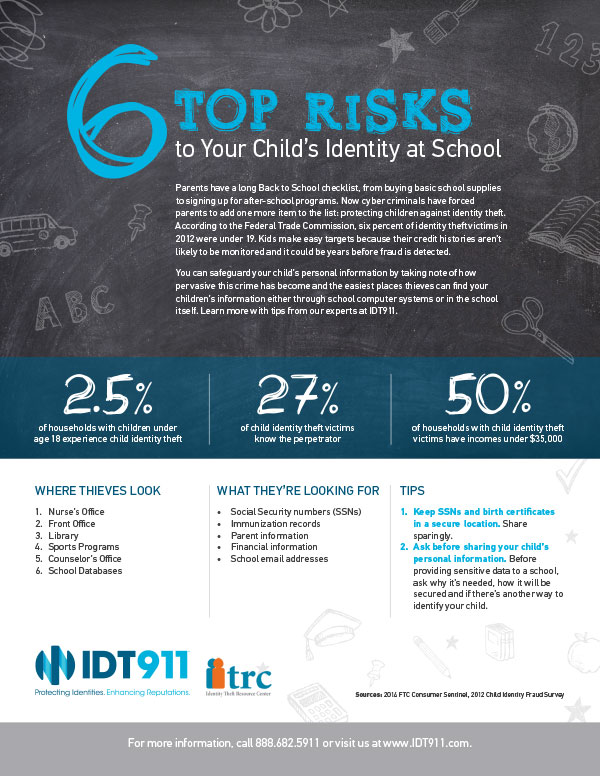 Note: IDT911 is now CyberScout