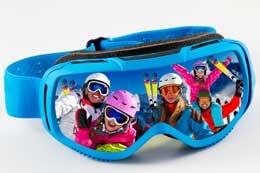 Last fall, I decided to embrace the winter season by picking an outdoor activity to enjoy. For years, I considered snowshoeing. Unfortunately, we haven't received much snow this winter.
After some thought, I decided I would bike to work during the winter months, so I bought a new bike and some gear to ensure a comfortable ride.
Over the Christmas break, my daughter's friend asked her to go downhill skiing. Initially, I thought this was a great way for her to be active during the winter. When I was younger, I remember skiing with my grade school and even taking my wife on a date at our local ski hill.
I realized those skiing adventures took place more 30 years ago and I no longer remembered the first thing about skiing. Since I had researched biking in the winter months, I thought it was wise to do some research on skiing.
If you decide skiing is your new adventure this year, here are some tips for you and your family. Even if skiing isn't a new adventure for you, these tips can help you enjoy other outdoor winter activities like snowshoeing or simply taking a walk.
1. Start with a lesson. Back when I skied, I went to the ski hill, put on a pair of skis, and away I went. I was close to using the same approach with my daughter. Then it dawned on me that she probably needs a lesson or two. Contact a ski hill near you to find out if they offer lessons. When I contacted our local ski hill, I learned what they teach beginners and that the lesson price was affordable. Learn from a professional ski instructor, not a friend or family member.
2. Layer up. Selecting the right number of layers is important. Beginners tend to underdress, especially if it's a sunny day. My daughter thought she could wear a sweater with a sweatshirt over the top and a pair of jeans. Choosing the right number of layers, based on temperature, can only be accomplished through trial and error.
3. Get the appropriate gear. Proper-fitting gear is important in keeping you warm and safe. Gear that doesn't fit properly or is uncomfortable can ruin your day. Avoid wearing your favorite pair of jeans or borrowing equipment from others. If you don't have gear, rent boots, snow pants, and a helmet.
It's also wise to buy ski goggles. Goggles help prevent snow blindness and protect your eyes from blowing snow. For biking to work, I bought a vented pair of ski goggles for $40. They keep my face warm and don't fog up. They also work great for snow blowing which is more work than fun.
Wearing the right layers of clothing and having the appropriate gear can make everyday life more enjoyable during the winter months.
Check out these links on getting fit for the appropriate ski boot and selecting ski gear.
Ski Boot Fitting 101 – How to fit Ski Boots Properly Part 1
Ski Boot Fitting 101 – How to fit Ski Boots Properly Part 2
4. Patience is a virtue. Like many new hobbies, skiing takes practice. One lesson doesn't equip you with the skills you need to go down the most difficult hill. Embrace the learning process and set realistic expectations. If you have family or friends who are more advanced skiers, don't try to keep up with them. If you want to ski with them, ask them to join you on the smaller runs.
5. Stay loose and relax. It's very important to stretch properly before taking to the hill. Skiing requires the use of many muscles that aren't used to this type of activity. The more stretching you can do, the better off you'll feel the next day.
It's also important to stay relaxed. Like any new activity, the first time at the ski hill can be stressful; however, it's important to keep a clear mind and a relaxed body. Don't be afraid of falling. Falling is a part of the learning process. Keeping your body rigid and tense can be harmful. If you feel stressed, take some deep breaths. This will help clear your mind of distracting thoughts that may be attacking your confidence.
6. Know the lay of the land. Be familiar with the layout of the ski hill. Understand the ski hill's rules/code of conduct, terminology, and map, as well as where you can get medical attention. Knowing this information can make the day more enjoyable and safe for you and others.
7. Stay hydrated. Staying hydrated during winter months is very important. Dehydration can happen quickly in cold weather because your body is working hard to stay warm. Check out "8 Tips for Hydrating in Cold Weather."
8. Don't forget the sunscreen. Use an SPF of 30 or higher and apply it to exposed skin. Reapply every few hours. You CAN get sunburn in the winter.
Do you have any tips you'd like to share? I'd love to hear them; please share them in the box below.
Sources:
http://www.skinet.com/ski/galleries/top-10-tips-beginners?i=63193&s=10 http://skiing.about.com/od/skiclothing/a/What-To-Wear-Skiing.htm