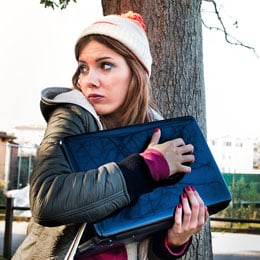 Earlier this year I did a brief presentation to accounting and finance students about the importance of renter's insurance. It seems many college students or recent graduates don't feel they have enough items of value to insure. Because of this, many do not purchase renter's insurance and learn the true value of their items the hard way.
I shared with them that if they walked around their apartment and started adding up everything they owned they would be surprised and realize that an insurance policy is needed to protect their personal property. In addition, a renter's policy would provide some liability coverage for them if their pet bit a friend or if someone suffered a different injury while visiting.
According to West Bend's partner, IDT 911, millennials also have wrong assumptions about identity theft. According to a recent article "Millennials: Getting it Wrong About Identity Theft", they aren't doing much to safeguard their personal information.
Here are some tips to consider sharing with the millennials in your life to keep their name and their credit in good standing.
Use strong passwords;
Be careful when sharing personal information;
Avoid public Wi-Fi; and
Follow the three M's.
To learn more about identity theft involving school-aged children, check out my blog "Tips to prevent identity theft in school aged children".
IDT 911 and West Bend have collaborated to provide our insureds with the option to buy insurance coverage to protect against identity theft. To learn more, talk to an independent West Bend agent.
Do you have any information you'd like to share? I'd love to hear from you. Please share them in the comment box below.
Note: IDT911 is now CyberScout