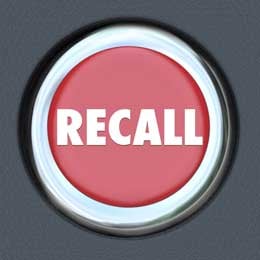 In 2015, many news stories focused on automobile recalls. One of the major stories still in the news is the recall of vehicles with Takata airbags. Takata airbags have a known defect that causes the airbag to explode, sending metal throughout the passenger cabin. Takata airbags have been linked to 7 deaths and nearly 100 injuries in the United States. In the U.S., the recall affects more than 30 million vehicles manufactured by 10 automakers.
You may be wondering why the number of recalls spiked over the last couple of years. It's because automakers are feeling increased pressure from consumer advocates and lawyers. Regulators, such as the National Highway Traffic Safety Administration (NHTSA), are also stepping up enforcement.
The NHTSA and Takata Corporation recently reached out to the Insurance Institute for Highway Safety (IIHS) asking their members to help spread the word on the recall. Since West Bend is a member of the IIHS, we agreed to help.
Because the airbag recall affects so many vehicles, it's been difficult for automakers to reach all current owners of vehicles with the defective airbags. NHTSA and Takata hope that with help from IIHS members, more consumers will find out about the recall.
To find out more about the Takata airbag recall and other recalls that may affect your vehicle, visit safercar.gov. Once you're in the site, you can find recalls that affect your car by entering your Vehicle Identification Number (VIN#). This is especially helpful if you bought a used car. If the former owner neglected previous recalls, you can find out here.
There are also many other resources available on the website, including:
Even though recall repairs are covered by the manufacturer, they're still inconvenient. It's important to understand, however, that if a recall is issued, there's a significant defect that can lead to injury or death. Don't you want to keep yourself and others safe? Please share this important information with your friends, family, co-workers, and neighbors.
List of vehicles with defective Takata airbags
Sources:
http://www.consumerreports.org/cro/news/2014/10/everything-you-need-to-know-about-the-takata-air-bag-recall/index.htm

http://www.nhtsa.gov/About+NHTSA/Press+Releases/2015/nhtsa-imposes-record-fine-on-takata-11032015